A surprise date night takes a turn when a dead body falls onto the dance floor. The couple tries to solve the mystery using a music player that allegedly predicts the future using song titles.
---
Nervously gripped around her date's arm, Robin Bee squinted as she walked into the Kruder Hotel courtyard decked in red neon lights. Surrounding the dance floor was a colosseum-like stage with three stories. People wore various red themed outfits on the ground level, enjoying themselves by dancing, talking with friends, and flirting with strangers. Two bars spanned the entire bottom of the stage, with seats stationed in front of them. Scattered on the second level were private red tents for more intimate activities, which Robin didn't have access to visit. Exclusively on the third floor was DJ Red House. He used his purple tentacles to mix popular songs from around the Five Following Planets. The DJ adorned in his trademark red overcoat covered with a dozen pouches, a giant zipper track along the entire length, and a hood.
Robin considered reading more her jam, while Haley Riot was a feisty human filled with the energy of a burning star who could dance until morning. Robin wanted to do something special for Haley, and so she told her to wear a red outfit and meet up at the Crossroads Station for their date tonight. Both Robin and Haley ended up with similar casual apparel of red pants and red t-shirts that matched the event.
A sasquatch in a puffy red dress with three rings around the waist approached Robin and Haley with a tray filled with complimentary drink shots. Robin and Haley each took one, clinked their glasses, and downed their drink. While Haley hollered with excitement, Robin's face clinched up from the bitter taste of the alcohol. They both thanked the sasquatch as they put their empty glasses on the tray.
"So, what do you think about this party?" Robin asked Haley.
"You slayed it. I love DJ Red House!"
"This concert was a last-minute deal since he was in the city for a business deal. Were you surprised?"
"Well, I might have cheated…"
Robin resisted the urge to roll her eyes. "You still think that device predicts the future with song titles?"
"It's been eerily accurate since I got it," Haley explained as she pulled out the palm-size white metallic device from her red jeans.
Haley was hastily gifted the digital music player by an older woman with long gray hair. When Robin first heard about Haley's encounter, Haley described the mysterious stranger as wearing a wrinkled purple robe and gold chains with purple jewels hanging from her neck. This stranger said the song titles would help Haley "right wrongs" before she floated into the sky on a cloud. Robin did admit she had never seen a music player like it when she first saw it, but people had hobbies making one-of-a-kind devices. Without much evidence for either side, Robin shrugged it off and let Haley enjoy her belief.
"How does Robin feel about this party?" Haley spoke to the device and hit the shuffle button on the music playlist. "'Comfortably Numb,' it says."
"I think that's an accurate description," Robin admitted as she played with Haley's rainbow dyed hair. "The music is making me numb, but I'm doing okay because I'm with you."
"Aww," Haley teased. She kissed Robin on her blue skin neck. "Good comeback. Let's see, what is going to happen at this party?" Haley tapped shuffle. "'Let the bodies hit the flood.'"
Robin mauled over her opinion as the DJ tossed fog bombs onto the dance floor and cracked the volume up. "That's rather vague. I can attribute a literal meaning to people falling on the floor, drunk."
"Fine. I'll ask a more specific question to prove it. What's the worst thing that's going to happen at this party tonight?" Haley hit shuffle. "Oh."
"What? What did it say?" Robin prodded with genuine curiosity.
"Dead Man's Party," worried Haley as she stuffed the music player back in her pants while attentively scanning the area for danger.
"You don't think someone is honestly going to drop dead?" Robin questioned with sarcasm.
A scream erupted from the dance floor, causing the music to stop. Haley rushed over to the scene with Robin following behind, cursing under her breath because she had the feeling she was about to be proven wrong. In the middle of the dance floor was a dead human with his hands tied behind his back.
Haley let out a tiny joyful squee. "A mystery!"
As the hotel staff intervened and began pushing people away from the crime scene, Haley got out her music player.
"You think it can tell you who did this?" Robin asked without sarcasm.
"I'm going to give it a try. Where is the killer?" Haley hit shuffle. "'High Noon.'"
Haley and Robin looked up at the DJ booth and noticed that DJ Red House was gone but didn't think much of it. High Noon was a vague clue. Neither of them noticed anyone else acting suspiciously on the second or third floor.
"Perhaps I can flat out ask, 'Who killed the person on the dance floor?'" Haley tapped the player. "It just says, 'Stranger in a Strange Land.'"
"That's helpful," Robin commented as she crossed her arms. "Maybe ask why?"
Haley asked why and tapped the button. "'Taking Care of Business.'"
"This isn't going anywhere," Robin mumbled, resorting back to her belief that the music player couldn't predict the future.
"Wait. It has to be DJ Red House. Think about it. He was up high in the center. He is a stranger in a strange land since he isn't from any of the Five Following Planets. He was only doing this concert because of some last-minute business."
"Maybe," Robin hesitated. "How are you going to prove all this?"
Haley consulted her music player. "'Telephone Call from Istanbul.'"
"What's a telephone, and where's Istanbul?"
Haley shrugged. "I'm going to question him."
Before Robin could object, Haley ran off. Robin sighed and followed. As a precaution, Robin activated her danger app on her networker strapped around her wrist. The app had the authorization to record audio and visuals and send all relevant data to her predetermined list of contacts should it detect any harm.
Robin and Haley found themselves inside the hotel building, under the stairway, based on more clues from the music player. Above them was DJ Red House communicating on his networker to another person.
"I'll meet you at Istanbul tomorrow," the DJ said in a whisper. "That renegade wouldn't be a problem."
"Good. No trouble? No one suspects you?" the other person asked.
"The protectors will be here soon, but I made it look like his ex killed him in a drunken accident. I'll stay here tonight so as not to arouse suspicion. May victory prevail."
"May victory prevail."
The DJ ended the call and walked down the stairs. Haley took a step up, confronting him.
"Hey, there, ladies," DJ Red House flirted. "You looking for a good time?"
"I know you killed that person," Haley accused. "Just 'taking care of business,' weren't you?"
The flirty smile dropped from the DJ's wrinkled purple face. "You don't know what you've gotten yourselves into."
He reached into four separate pockets on his overcoat, using all four of his tentacles, pulled out his fog bombs, and smashed them on the steps. The stairway filled with smoke, but that didn't stop Haley from running upstairs after the murderer. The DJ escaped through the second-floor door with Haley not far behind.
"What can I do to stop him?" Haley shouted at her music player. The song title was, "Throw Me Hard." Haley threw the device at the DJ, hitting him on the head, which, combined with his overcoat's bulkiness, the DJ lost his balance and landed face-first on the granite floors.
Haley pounced on the DJ, pinning him to the floor. She screamed for help, which Robin heard and had brought two protectors. Haley explained to the protectors how they overheard the DJ talking about killing the victim. Robin collaborated with the recordings on her networker. Both Haley and Robin intentionally omitted the hints from the music player.
Haley and Robin jumped on the subway with the questioning done, leaving the Kruder Hotel mess behind.
"I think this is the beginning of a new career," Haley proclaimed as she took a seat on the pristine subway.
Robin chuckled. "You going to have some kind of alias for this venture?"
Haley hit shuffle. "Call me, The Sounds."
---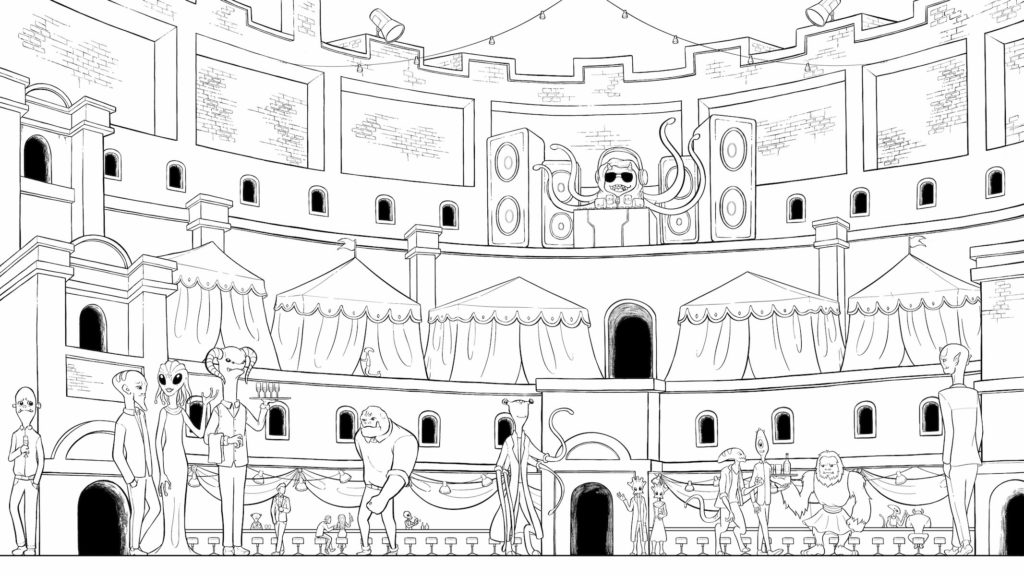 For Body Drop, I had a few different sources of inspiration. I wanted to write a story to serve as an origin story for my character, The Sounds, who I have in other unpublished works. The setting was inspired by the following writing prompt: "Everything was going along quite smoothly at the hotel party seeing as everyone was enjoying themselves, that is until a man falls into the middle of the dancefloor from the roof of the building with his hands tied."
Finally, I asked people on social media to share song titles for me to incorporate into the story. I used the following songs: High Noon by Kruder & Dorfmeister, Stranger in a Strange Land by Leon Russell, Anything from Dead Can Dance, Red House by Jimi Hendrix, Telephone Call from Istanbul by Tom Waits, Let the Bodies Hit the Floor by Drowning Pool, Comfortably Numb by Pink Floyd, Renegade by Styx, Taking Care of Business by Bachman–Turner Overdrive, Staying Alive by Bee Gees, and Dead Man's Party by Oingo Boingo. Some of the songs I used the titles as the hints Haley got while others I wove in other ways with character names.
Story Artwork by Chen Kang at Design Pickle. Get a discount off your first month of Design Pickle via this affiliate link, which full disclosure, I earn a small commission as a discount for me as well.
Thank you for reading and thanks again to everyone for all their suggestions! This was fun and I'll have to write another short story with The Sounds using social media to source song titles.
If you enjoyed this story, be sure to read the next installment, Testing Predictions on an Abandoned Village.