Detective Psychon isn't a fan of working while on the way to a job, but when the ship's captain threatens to toss him out of the airlock if he doesn't help solve the murder, he figures he should help.
---
Detective Psychon wasn't a fan of working while on the way to a job, but when the ship's captain threatened to toss him out of the airlock if he didn't help solve the murder, he figured he was at a good place to put down his book on The Glimmingdrift.
"I suppose I can consult on this matter," Psychon calmly conceded as he sat his book on the table.
"Thank you," sighed Captain Kára Róta. "My clients are starting to get on my last nerve over this whole situation, and we don't need more dead bodies from me killing them."
Psychon didn't doubt the capability of her frustration. She was a six-foot-tall humanoid lizard with sapphire-red skin and the build of a sprinter. Her wardrobe of black jeans, a black t-shirt with a blue tree on it, and a black leather jacket with a neon blue backlight collar presented her as a rebellious leader. She had a subtle scar over her right eyebrow, which is possible to correct, but Psychon assumed it was some badge of honor from a fight or a tragic reminder or possibility for looks.
Kára led the detective through the hallway and around a corner. The hallway's soft blue metal walls and strips of light exhibited a style of luxury. The ship was a Class 15, so he knew it wouldn't be far whenever he was going.
"What do you know about this murder?" Psychon inquired.
"One: the murder weapon was a spoon," Kára stated. "Two: the victim died of asphyxiation. Three: the cat is missing. Four: the victim's last words were, 'Seven is a crowd.' Five: The Train was early."
They turned a corner where standing guard in front of an open door was a seven-foot-tall minotaur with red bull fur and muscles that could stop any intruder. Numerous pockets adorned his outfit, from his brown camo cargo pants to his matching brown shirt. The minotaur's firm posture relaxed at the sight of his boss.
"What do you mean the train was early?" Psychon asked, confused as they were flying in space.
"The Train is the name of the deceased's business partner."
"Ah."
The minotaur stepped aside to let Kára and Psychon inside.
"Thank you, Sinas," Kára greeted. "Did anything happen while I retrieved the detective?"
"Everyone stayed put in their rooms," Sinas happily reported.
"That's a relief," Kára chirped. "Anyway, Detective Psychon, meet the deceased and The Train."
Psychon stepped inside. The room was exactly like his on the ship with deep purple padded walls with a trim of white lights along the ceiling border. Sitting perfectly still on the large purple bed was The Train, a small furry green cube-shaped species known as quadratums. The Train began to speak, but Psychon held up his finger for them to be silent as he continued to scan the room.
On the floor was the victim, another quadratum. The deceased had a large spoon sticking out in their mouth. While The Train wore a formal three-piece black suit, their client had on a paint-stained hooded robe. Surrounding the body were seven different stuffed animals of original creatures.
Psychon let his figure down and gave The Train a look of acquisition. "Tell me about this person and what you're doing here."
"His name is Lignite, and he's a toy designer," The Train blurted out as he fiddled with his fingers. "We have a meeting on Viophus to discuss a manufacturing deal. We booked separate rooms, but we planned to get together to review our presentation. I was early for our meeting, and when I approached the door, I heard Lignite shout, 'Seven is a crowd,' and then I heard a loud thump. I banged on the door, and then I pulled out the backup key Lignite gave me if he locked himself out, which he tends to do. I let myself in and found him dead. I promptly called the captain, and here we are."
"Found the cat," a male voice called out from the hallway.
Psychon turned to the young adult human holding a black cat in his arms.
"Need to add a number six, one of these may be a lie," Psychon commented to Kára.
"Excellent work, Rafael," Kára thanked, ignoring Psychon. "Hold onto the cat."
"Actually," Psychon interjected. "Would you sit the cat down in the room?"
Rafael looked at Kára for confirmation. Kára nodded, and Rafael gently placed the cat on the plush, black carpeted floor. The cat bolted out of the room and down the hallway. Rafael ran after it.
"There's something in this room that's bothering the cat," Psychon pointed out. "Tell me, Kára, can you shut off the fire suppression in the room?"
"Yeah, but why?" she replied.
"Humor me."
Kára held a finger on her black bracelet. "Yo, Norbit, turn off the fire suppression system in guest room three, please."
A robotic series of beeps replied over the bracelet.
"It's done," Kára said. "Thank you, Norbit."
Psychon took off his pointy black hat decorated with an eclectic assortment of patches sew throughout. He blindly reached around inside until he pulled out a red stick with a trigger on it. He gently pulled on the trigger, igniting a small flame from the point.
"We should honor Lignite's last request," the detective proclaimed. "Seven is a crowd, so let's burn these toys to honor him."
"No!" plead the stuffed toy that was a cross between a unicorn and a beaver as it sprung to life.
Everyone except Psychon jumped back, surprised.
"A fabrication," The Train muttered. "I-I just assumed you were some new toy I hadn't seen yet."
"That was the point," the fabrication confessed. "Lignite's been ripping off my designs, and when I learned he had a big deal coming his way, I wanted to make I got my fair share. When he wouldn't cut me in, I shoved that spoon down his throat."
With a crack of a smile on his face, Psychon strolled out with his hands in his jacket pockets. "Mystery solved. I expect my next ride to be free."
---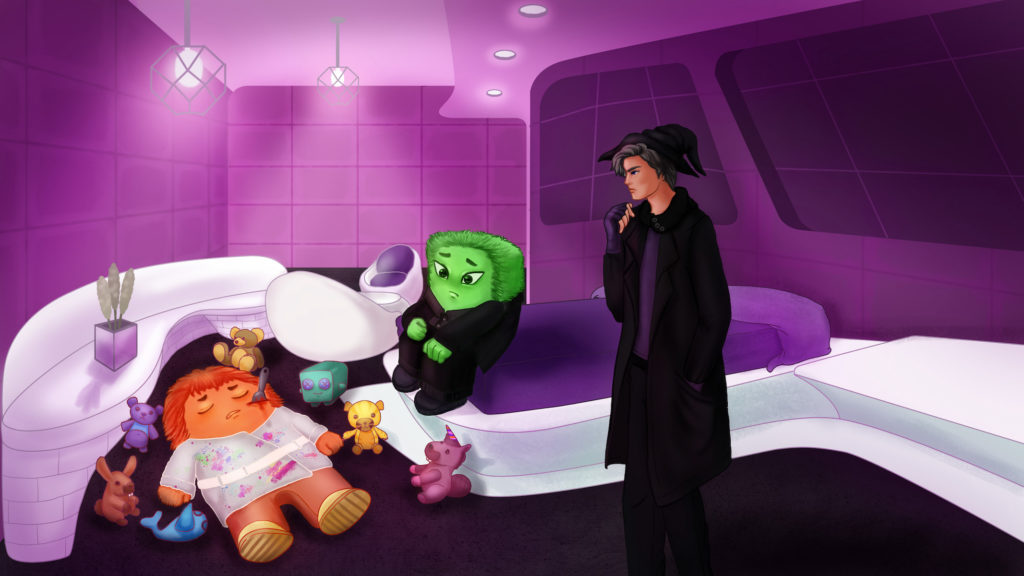 This short story was inspired by these two writing prompts. The First, "Write a detective murder mystery that takes place on a spaceship." The second: "We need you to solve the crime, Detective. What we know about the case is this. One: the murder weapon was a spoon. Two: the victim died of asphyxiation. Three: the cat is missing. Four: the victim's last words were "Seven is a crowd." Five: the train was early. Six: one of these may be a lie."
I got motivated to write another Detective Psychon story and I wanted to loop in the characters from Starbringer II in this mystery. If you liked this story, be sure to read my other stories with these characters by clicking on the character tags below.
Thank you to Janine De Guzman at Design Pickle for bringing this scene to life! I sent over several different images of hotels for inspiration and I love how she blended everything together for the room.
Chronologically, the next story for Psychon is Script Thief, which takes place aboard The Glimmingdrift that he was reading about at the beginning of this story.