Nathan wakes up to a motion-activated alarm with a video of him several minutes into the future, pounding on the front door.
---
Nathan could have sworn his smartwatch was set to bedtime mode when it buzzed him awake. He moved his wrist to his face while avoiding waking up his husband. It took several seconds for his eyes to focus and his brain to process the message on his watch: "There is motion at your front door."
"What is it?" Grayson mumbled, partly awake.
"I'm sure it's just a cat," Nathan whispered. "Go back to sleep."
"Check it, so your imagination doesn't keep you awake, again."
"Hey, that story won me an award."
Grayson rolled over to the side, ignoring him. Nathan reached for his phone on his nightstand, missing it during his first attempt but grabbing it on the second. He opened the notification, bringing up a video feed of himself pounding on the front door. The version of himself in the video wore the same bison t-shirt and pajama pants he had on now. In the video, he ran up to the door, pounded on it, searched through his pockets, and ran off-screen. He watched the video a second time before shaking his husband fully awake.
"What? What?" Grayson said. Nathan shoved the phone in his face, forcing Grayson to watch. Grayson sat up. All he could say was, "What the hell?"
"I know."
"Hold on, what time is it?"
Nathan looked at his watch. "It's 2:37 am."
"Look at the timestamp. It says 2:48."
"Wait, that's like 10 minutes from now."
Nathan tossed off the sheets and walked over to the bedroom window. Dangling from a rope net in their front yard, a man in a white suit with pink accents and a woman in a red dress waved at him when they noticed him peeking outside.
"There are people caught in a net in our tree," Nathan said in disbelief.
"You're joking," Grayson said as he rushed to the window. "No, you're not."
"You stay here while I go talk to them," Nathan said.
Grayson nodded, grabbing his cellphone just in case while Nathan stepped outside.
"See, I told you that would get him to come outside," the man in the white suit said to his sibling.
The woman sighed and tossed him a gold coin, which he caught with a smug smile.
"I'm surprised the video we had of him covered in blood didn't cause him to come outside," the woman in the red dress remarked as she brushed aside her raven black hair.
"Okay, what is going on?" Nathan asked. "And who are you, and how did you get…like this?"
"Ah, Nathan!" the man in the white suit greeted with a warm smile like they were old friends. "In the order asked, we're trying to catch a monster, I'm Loki, and this is Raven, and we didn't catch the monster."
Nathan chuckled and starting looking around for cameras. "This is a prank show, isn't it?"
"No, we're trying to catch the monster you set free the first time we met," Raven said without snapping at him.
"The first time we met?" Nathan repeated.
"Yes," Loki answered. "This is like the…."
"34th time," Raven added.
"34th time we've met," Loki finished. "We can't seem to leave until we manually set time back in order."
Loki rolled his eyes during the word "manually" as things would automatically set themselves in order. Before Nathan could respond, a large crash erupted from his backyard. Nathan thought it sounded like a battery ram smashed through his backdoor. He ran to his front door, as going through would be faster than around. Nathan tried to open the door, but something was blocking it. He pounded on the door, calling out for Grayson. Nathan pushed on the door again, with no luck. He ran back to the two strangers in his tree for answers.
"Seriously, what is going on?" Nathan demanded.
"It sounds like the monster went around back," Loki said.
"We should set up our motion-activated trap there next time," Raven said.
"Next time?" Nathan shouted. "What do you mean next time?"
"Once the monster kills someone, we reset to 2:30," Raven explained.
Grayson's scream pierced through the walls to the outside.
"Too late," Loki sang.
Nathan woke up to the buzz of his smartwatch. 
---
I've been mauling over the writing prompt that inspired this story for some time, but when I finally sat down and wrote it, the story came out. The prompt was: "'There is motion at your front door' – You groggily awake to the notification on your smartwatch. You check the video on your phone and see yourself frantically trying to open the door. The timestamp reads 2:48 AM. You look at your watch. It's 2:37 AM."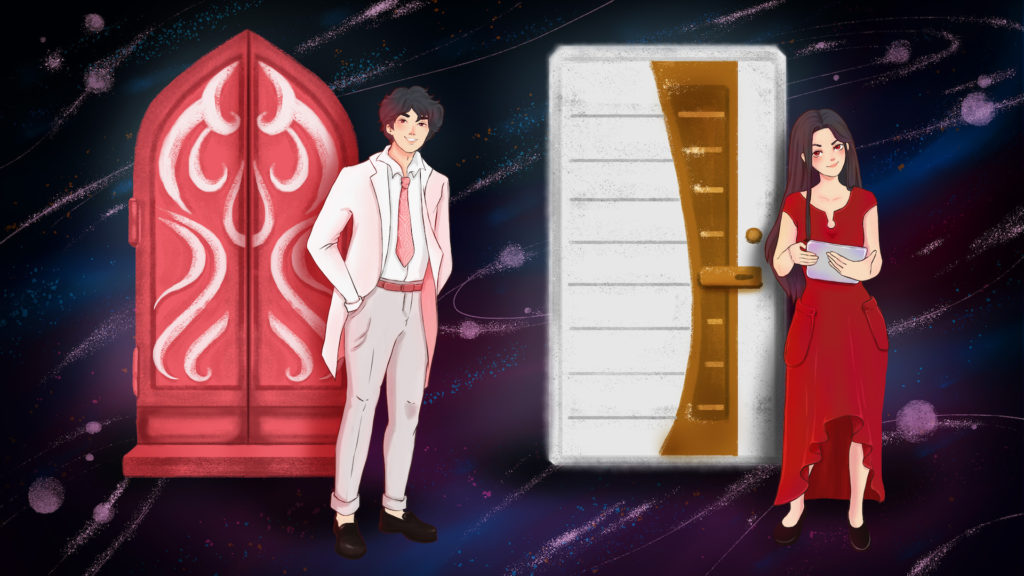 When I first saw this prompt, I thought it would be perfect for Loki and Raven, which at the time, I got this beautiful piece of artwork done by Janine De Guzman of my characters. Janie is also responsible for this story's amazing cover art.