When a herd of dragons visits the small town of Valley, the mayor decides it's his civic duty to greet them only to get caught in a mystery. 
---
There weren't always dragons in the Valley. Mayor Axepen was dead set on giving the unfamiliar herd of dragons a friendly welcome as part of his civic duty. In his 42 years of living on the Black Planet, Brutüs occasionally saw dragons fly throughout the skies, wait in line at the drive-through of a coffee shop, or deliver kegs of beer from a local brewery. Seeing over two dozen together was a rare sight.
Upon hearing of the arrival of dragons, Brutüs skimmed through Hugging Dragons: A Cultural Etiquette Guide to Befriending Flying Serpentines by Peigi MacLeòir. After all, Brutüs won the democratic mayoral race based on his platform of owning and reading the most books in the Valley. During his campaign, he also decorated his horns to appear less threatening, invited constituents to tea parties to listen to their concerns, and held ice cream soirées at the library while reading children's stories. He successfully proved to the citizens of the Valley that he wasn't some dumb, mean, brawny minotaur but a well-educated, compassionate, brawny minotaur.
Brutüs minded his steps up the hill of rainbow-colored flowers to not ruin the plants. He made a mental note to discuss adding gravel trails to the hill at the next town planning meeting as he thought all should enjoy the calming scents, colorful sights, and overall relaxing walk.
As he reached the top, he recalled MacLeòir's advice on figuring out the leader. The book warned not to judge based on the size as sometimes the leader is the smallest one, or sometimes the leader was the largest, or the one with the most heads, or somewhere in the middle. The book said not to ask because if you happen to ask who the leader was and that was their leader, a fight would break out. Instead, the best course of action was to study the dragons to see who they watched the most. Everyone tended to keep an eye on the leader. However, with current technology, MacLeòir advised scanning the herd with a networker to find the answer.
Brutüs' owned a networker designed to look like an ax, which he wore as a necklace. He lifted his networker and asked, "Networker would you tell me who is the leader here?"
"Scanning!" the networker replied in a cheerful tune as a holographic spinning rainbow ball projected out. "No information found. This appears to be an unregistered group. Sending out a request for more information."
"Uhm," Brutüs said, letting the network fall to his muscular chest. The holographic display faded off. "I'm glad I read that book first."
Following the author's advice, Brutüs watched the dragons, studying who they watched the most. Everyone seemed focused on a white, single-headed dragon, who was small by dragon standards but was still twice as big as himself, a 7-foot tall minotaur. He straightened his blue suit and decided to take a shot at welcoming the leader.
"Greetings," Brutüs said with a big wave. "I am Mayor Axepen, and I welcome you to the Valley."
The white dragon lowered her head in a bow, her spikes glistening in the morning sun. "Hello, Mayor Axepen. My name is Swift. We mean you no burden or trouble as we merely pass through to visit The Black Dragon."
Brutüs nodded. The Black Dragon was the oldest and most influential living being on the planet. Although officially, The Black Dragon wasn't the planet's ruler – unofficially was a different matter. As a town leader, Brutüs was in charge of the yearly tribute in which the most talented artists competed to send their works of art to The Black Dragon. Fame often followed the winners as only the best would win. With The Black Dragon being practically immortal, the dragon would often auction or donate the works in the future for a significant profit. Brutüs viewed the tribute as a win-win and held neither a positive nor negative opinion of The Black Dragon. Although writing about The Black Dragon in his journals was a tiny bit of an inconvenience as The Black Dragon had no pronouns or titles. However, such an "inconvenience" was a nonissue matter for respecting one's personal preferences.
"Very well," Brutüs said, straightening his red and black striped tie. "If you are interested in obtaining coffee before your long journey, the drive-through at Gratitude Coffee can accommodate you."
Fun fact about dragons: dragons are caffeine sensitive, and what would be a large coffee for a human would often be the perfect size for a dragon.
"Thank you, Mayor," Swift said. "We may consider that."
As Brutüs was about to leave, he caught sight of a tattoo of a human woman in a green dress with a green door on Swift's arm. "If you don't mind me asking, Swift, what is the story behind that tattoo?"
"Why do you think there's a story?"
"I've never seen a tattoo of a human on a dragon before, that's all."
Swift brought up her arm to see the tattoo in question. "This…This was someone special to me. She saved my life. It's a long story."
"I do enjoy a long story if you enjoy sharing one." Brutüs sat on a clean patch of ground. "I do have the time."
Swift laid in a rested state. "Well, a long time ago, when I was about your size, I was an actress, and she was a director. She had a fiery spirit like the mightiest dragons – for a human. I later learned she was a time-traveler, but that's getting ahead of myself."
"A time-traveler?" Brutüs repeated, trying not to scoff in disbelief. In the entirety of Brutüs' library, he only owned one book about time-travelers. In How to Survive an Encounter with a Time-Traveller by Filip Webb, the 150-page book only consisted of the word "Avoid" written on each page in different languages, font styles, and graphical representations.
"I sense your skepticism," Swift said, "as I was a skeptic myself. To this day, she was the only time-traveler I met."
"My apologizes," Brutüs said. "I mean no disrespect. Please, do continue."
Swift nodded. "This happened around when people believed rumors that a dragon's spikes were potent aphrodisiacs. As I was leaving a solo act one night, I got mobbed by a gang. They had me chained and in a cage before I knew what was happening. They were professionals."
A red tear ripped the clouds above Brutüs and the dragons. A ginormous spaceship–larger than the field of dragons–flew out from the portal. The sudden, looming shadow and the engine's raging hum gave away the ship's presence. Swift stood up, fully alert, while Brutüs sat in confusion.
"Gods," Swift cursed. "Did you scan us by any chance?"
"I was trying to figure out who the group leader was," Brutüs said.
Swift groaned and faced her fellow dragons. "Everyone, Evacuation Formation Beta. Rally together at point 13. Go!"
The dragons flew away, splitting into eight groups and going in separate directions. Without saying another word to the mayor, Swift left, joining up with one of the groups. Brutüs watched them leave as the ship opened fire on the dragons. He felt like someone had given him a prologue to a book while keeping the rest of the story for themselves.
---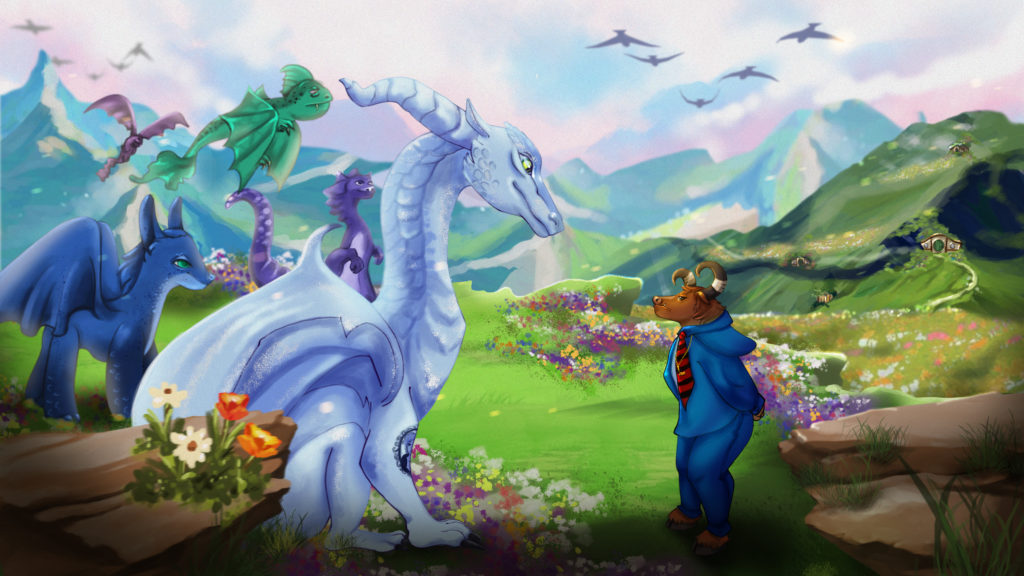 I wrote this story for a short story contest at Vocal. The challenge was to write the first chapter of a fantasy novel with the following first sentence as a prompt: "There weren't always dragons in the Valley."
Thanks to Janine De Guzman for bringing the scene of Brutus and Swift meeting at the Valley.
I know this story has a total jerk ending, which I was playing to this being like a prologue. I may continue this saga if the story is well received. 😉