The Wild Improv Challenge gives improvisers a wild, random, and improvised challenge from Dennis Spielman. The series showcases the growing improv scene in Oklahoma City, thanks strongly in part to OKC Improv.
Thanks to Philip Dow for the show's title and end music, and thanks all of the improvisers and guests for participating in the show.
Be on the look for season two to debut in 2013.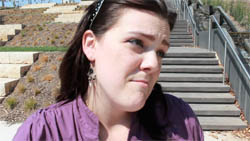 Premiered: Monday, January 9, 2012
Raychel Winstead (Villain: The Musical, The MiDolls) is the first to accept a wild challenge! During her lunch break from work, Raychel met up with Dennis at the Myriad Botanical Gardens. Raychel was challenged to sing a song about PMS with the title of "fire." Before shooting, she had to pick a number from 1 to 15 for the subject to sing about. She picked 3 since it was 3 days before her Birthday.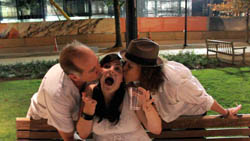 Premiered: Monday, January 16, 2012
Sue Ellen Reiman and Jonathan Shane McClure (both from Everybody and Their Dog) perform an improvised Birthday song for Raychel Winstead. They had to include two topics in their song, which Raychel chose from numbers 2 (zombies) and 8 (the government is watching us). The numbers made up the date of her birth.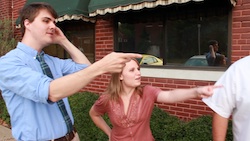 Premiered: Monday, January 23, 2012
Alyssa and Bryan Buckley of Red Letters were challenged to be in a buddy cop film by pulling out cop archetypes from my hat and then venture out to "bust some punks." Bryan played a hyper-active cop while Alyssa played the stereotypical black cop. Wade Martin and Kenny Madison of Good Cop/Nice Cop end up on the receiving end of Red Letter's justice crusade.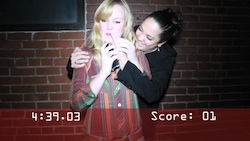 Premiered: Monday, January 30, 2012
Ann-Lisette Caveny takes the extreme improv challenge where she has to guess as many spooky characters as she can in five minutes. The challenge becomes an endurance for everyone to keep the monsters coming as the clock drains down. Watch the hilarious video to see just how many and what monsters Ann-Lisette guesses while waiting for her ride in a dark alley under a full moon.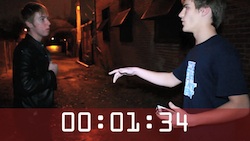 Premiered: Monday, February 6, 2012
Finding the perfect gift to get for a friend can be creepy especially when one's looking for something from strange characters in an alley way. The improv students of Casady High's improv troupe, Heck Yeah!, take on the insanely awesome challenge where for two minutes they run through some crazy characters selling crazy items. Watch what they try to sell and how the night goes deathly wrong.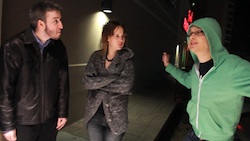 Premiered: Monday, February 13, 2012
In the freezing cold Ben Davis, Kyle Gossett, Michael Roberts, Stephen Dillard-Carroll, and Jessi Kyle pick out characters from a hat to act out a scene. Using the cold weather as inspiration, the scene takes place in a chilly warehouse involving computer hacking for U.S. nuclear codes.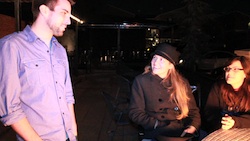 Premiered: Monday, February 20, 2012
What is love? Clint Vrazel, Cory Phillips, Tim Huckeby, and Kellen Hodgeson explain what their love is like to a pair of lovely ladies sitting outside by a fireplace.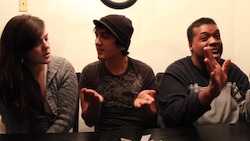 Premiered: Monday, February 27, 2012
Cory Phillips, Raychel Winstead, and Stephen Dillard-Carroll pick out characters for their roles as "contract killers" to kill a character that you hired them to kill.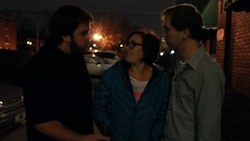 Premiered: Monday, March 5, 2012
Kenny Madison and Wade Martin of Good Cop/Nice Cop interrogate a girl to make her confess for a crime she doesn't know she committed.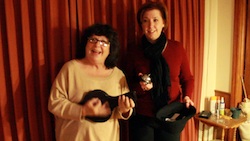 Premiered: Monday, March 19, 2012
The fabulous MiDolls battle each other in a game of questions. The girls – Sue Ellen Reiman, Cristela Carrizales, Ann-Lisette Caveny, Raychel Winstead, Brenda Williams, and Jodi Nestander – pick out some characters from a hat as a starting point. Each of them have two lives tournament style until one of them emerges victoriously to become the champion.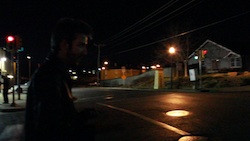 Premiered: Monday, March 26, 2012
Ben Davis, Kyle Gossett, Michael Roberts, Stephen Dillard-Carroll, and Jessi Kyle return for the dangerous challenge where Michael must convince the others, who can only say or do one thing from a suggestion from the hat, to cross the street. Dun-dun-dun!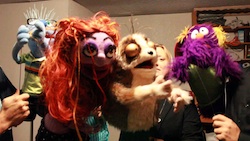 Premiered: Monday, April 2, 2012
In this 2-for-1 video, Elizabeth Westermann of Puppet Crush, Buck and Clint Vrazel of Twinprov, and Andrew Agee sing two improvised songs. The challenge? To do the songs with puppets! Don't let the puppets fool you because this video gets a bit wild.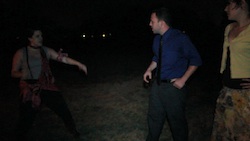 Premiered: Tuesday, April 10, 2012
The Time Traveling Troupe, Raychel Winstead, Kyle Brower, and Jessi Kyle, star in this wild improv challenge where they're in an alien invasion movie, however, the movie keeps changing genres.