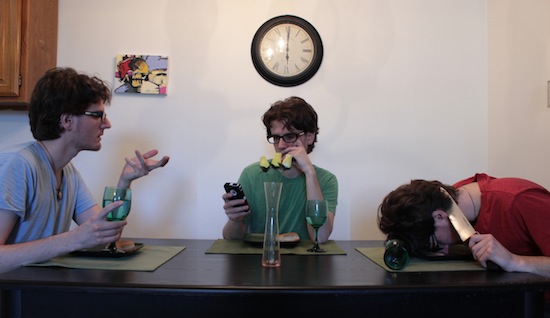 I've been feeling lonely lately, so I decided to have Me, Myself, and I together for dinner.
It didn't go so well…
---
Deeper Artistic Meaning: This picture tells the tale of one cycle of depression and loneliness. In the blue shirt sitting east with the rise of the sun, we feel bright, sky high, refreshed, and ready to live. As we move toward the middle of the day, we don't feel so high and we're bit a more grounded, playing with our technology to distract us from our loneliness. As the sun sets, the voices in our head emerge to tell us how worthless we are and all we want to do is cut the voices.
Behind the Photo: This self-shot picture was my first time to play around with the idea of multiple selfs in the same shot. I had fun making it and created more. I did have to tell people on Facebook that I was honestly okay.