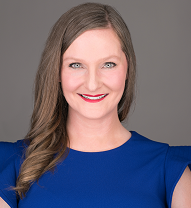 Expediting decision-making processes during stressful times with the OODA Loop
Written by me for the Oklahoma Venture Forum.
Before becoming an International Business Coach, Stacy Eads had been the CEO of a Norman technology company for over a decade when she fell in love with the book, Scaling Up by Verne Harnish.
"I grew Levant 600% of its size while I was a CEO, and I started to figure out that maybe that's where my true personal niche lies and that I wanted an opportunity to maybe break away, become a coach, and be able to help more businesses than just be an employee of one company in particular," Stacy Eads said.
For Eads' presentation for December's OVF power lunch, she will teach a tool that helps expedite decision-making processes during stressful times, especially with all of the pandemic's pivots. The OODA Loop, which stands for Observe, Orient, Decide, and Act, has helped her clientele make better designs during moments of fight or flight.
"Whenever they have a year that's like 2020 again," Eads explained, "or all of the things that have been happening with COVID-19, they have a tool that they can go back to and say, 'I know how to calm down. I know how to look at the facts. I know how to orient myself to those facts. Make a decision, act and start my loop again, so that I have a fast, quick decision-making tool that gives me confidence in my business to proceed.'"
Eads said one of the things she loves about the tool is that the first step is to make sure that you observe that you're observing facts only. She explained that when people are in a crisis mode, their emotions are at play or there is competing information, and they're unsure which way to go.
"We don't want our emotions, we don't want our opinions or what we think is going to happen, but we just want to observe the facts that are around us," Eads said. "What do we know? And what do we not know? And that initial pinpoint of the exercise is one of the things that I think is the most fruitful."
Stacy Eads will be speaking at the Oklahoma Venture Forum Power Lunch on Wednesday, December 9, 2020. Be sure to register for the online ZOOM event to learn more about OODA, ask your questions, and network with entrepreneurs in Oklahoma. As an Oklahoma City business coach and somebody who travels among North America helping CEOs, Eads is excited about having the opportunity to speak to the Oklahoma Venture Forum.
"Many of them might've even heard of the OODA loop before, but maybe they have not put it into the perspective of how to use the OODA loop within the year 2020, and within the type of anxiety that CEOs are having these days," Eads said. "The types of pivots that they're making during this pandemic. So I'm excited to take an old concept that's been around for decades and maybe breathe in some new life into what the year 2020 has to offer."