With business to attend on another planet, Hades hires Sally to dog-sit his giant three-headed dog, Cerberus. As Sally takes the dog for a walk in the Underworld, they discover a locked away secret.
---
Sally Wilkerson wiped her brow with her arm and sighed from having just finished her mopping duties at The Creamatory of Screams. She put the mop in the grungy, yellow plastic bucket and pressed on the level, ringing out the last of the dirt.
Behind the cash register next to the ice cream station, her co-worker, Mark, counted the money. Mark took his time, making sure none of the bills were stuck together, every coin was there, credit card totals matched up, and everything was ready for the next day. Sally had learned not to interrupt because she didn't want him to start over. She would have to wait to use one of her favorite closing puns like, "How in Hell did we do?" or "Everything good in Hell?" The puns about being in Hell, Michigan made Mark groan or roll his eyes every time, which was part of Sally's fun. She often forgot that he was sixteen like her.
As far as tiny towns went, Sally enjoyed living in Hell. She knew all of the locals and the tourists were fun. As she pushed the mop bucket back to its station, a tornado of flames erupted in the store. Mark screamed, knocking over the cash drawer as he ducked behind the counter while Sally stood unfazed.
From the flames, a tall, slender man stepped out. He pinched out a lingering ember of fire on his dark, almost black, purple suit with red pinstripes. He inspected his reflection from the ice cream cabinet, about to adjust his hair, but realized he had taken a form where his hair consisted of a blue flame. He stroked a finger along his grizzled movie star beard with crimson red skin.
"Hiya, Mr. H!" Sally greeted.
Mark stood up, picking up the fallen cash and ignoring their guest. Hades turned to Mark, snapped his fingers, and like magic, all of the money flew back to the register in perfect order.
"Your balance is correct, by the way," Hades said to Mark as he walked up to Sally. "Sally, I have some business on another planet to deal with, and I need you to dog-sit Cerberus for me while I'm away."
"Oh, wow," Sally said. "Well, as you may know, Mr. H, I'm a good dog-sitting, but you're talking about Cerberus. That's way out of my qualifications."
"Isn't Cerberus like a giant-three dog?" Mark said, recalling what he knew about Greek mythology. "Can't he handle himself?"
"Just because you're a badass doesn't mean you can't use someone watching over you," Hades said. "Cerberus just needs someone to play with for a bit while I'm gone. It will be easy for you. Just take him for a walk."
"Well, if you think I can handle it."
"Excellent. You start now."
"Hey, wait!" Mark shouted. "We still need to close up."
Hades snapped his fingers, and from a flame portal, a brand new XBOX gaming console landed in Mark's arms.
Mark sat the compensation down. "Have fun dog-sitting!"
Hades twilled his wrist in the air, swirling Sally and himself in a ring of fire that warped them to the Grand Library in Earth's Underworld. The ornate green walls always made Sally think of the Statue of Liberty. The library held several floors of well-organized books, curious artifacts, and eclectic works of art. Many dogs of every breed popped out from around the brightly lit library upon Hades' return. With tails wagging, they welcomed them. Sally got down on her knees to pet the smaller dogs while Hades gave casual head scratches to some larger dogs.
With the dogs greeted, Hades whistled. "Cerberus! You have company."
From around a corner, a black dog the size and strength of a tank popped his three heads out. The dog walked over gently as not to cause any books to shake off the shelves. Cerberus' middle head licked Hades' head, temporarily putting out the blue flame hair. Hades laughed and rubbed underneath the dog's chin.
"You be a good boy for Sally," Hades said in a warm but stern tone. "She's going to keep you company for a few hours while I repair things."
Cerberus barked in acknowledgment.
Hades turned to Sally. "I'll send someone to relieve you in a few hours. Make sure he doesn't eat anyone he isn't supposed to eat."
In his flames, Hades vanished, leaving Sally hanging with questions.
Sally looked up at Cerberus into his large, red eyes. "So, do you want to go for a walkies?"
Cerberus barked and lowed his heads.
"I am I supposed to ride you?"
Cerberus wagged his tail.
Sally shrugged. "Okay, I guess I'm going to ride Cerberus."
With the helping nudges of the other heads, Sally got up on Cerberus. The moment she got into position, Cerberus ran, causing some books to fall off the shelves. She gripped the red collar like she was holding on to the bar of a wild rollercoaster as they raced out of the library, bursting through a large double swigging wooden door and out into a cave.
It took a moment, but Sally acclimated herself to the ride. Several ghostly white transparent butterflies the size of her head crossed their path. Cerberus changed course and chased after the butterflies until they faded away. Sally laughed and petted the center head. Cerberus continued walking along a glowing green river. Sally took in the sights of the luminous green crystals and plants adoring the dusty red cave. The place smelled like an underground forest to Sally, which she wasn't expecting, but appreciated.
As they continued down the river, Sally could no longer see the library. She was a bit concerned but also figured Cerberus knew the way back. A gentle harp melody snuck into her ears, bringing a feeling of sadness as she listened to the song.
"Where is that music coming from?" Sally said. Cerberus barked. "Can you find that sound?"
Cerberus run in the direction of the sound. As the music got louder, the cave got darker and smaller until they came to a pair of bronze doors. While the doors were huge compared to Sally, they were only the size of one of Cerberus' heads. Cerberus pawed at the door and whimpered.
"I'll go check it out," Sally offered. "Wait here. I'll be right back."
Cerberus lowered his heads, and Sally slid off. With a big push, she opened the door to a dome-like room. The glowing blue flames from the torches revealed piles and piles of musical instruments. Some she recognized, but many she didn't. Sally stepped deeper into the room, and the music stopped.
"A visitor?" a voice called out, echoing in the room.
"I'm sorry," Sally apologized as she searched for the person. "I was just following a beautiful song."
"You have nothing to apologize for, Sally," the voice replied.
"You know my name?"
"Of course. I know everything about you, including your future."
"You do? Where are you?"
"In the center. I'm the giant four-string harp."
Sally found the golden harp. It was three times her size. As the harp played, each one of its strings lit up as a different color. Sally's jaw dropped in awe of its splendor.
"I would love if you played with me," the harp invited. "It would set me free with joy."
Meanwhile, at the Underworld of the Green Planet, an animated skeleton of a lion that stood upright on his two feet gave Hades an update on rebuilding efforts.
"The rollercoaster is almost complete," the skeleton lion explained over a 3D holographic map of the Underworld. "We're still missing one of the carts for it."
"I have someone retrieving that as well as the other items left on the surface," Hades answered.
"Good. Once we get everything, it will be like this place never crashed on the surface."
Twirling around in her green dress, Persephone skipped up to Hades. She rested her head on his shoulder like she was his second head.
"Is the rollercoaster fixed yet?" Persephone asked.
"We're still putting it back together," the lion skeleton answered.
"Sad," Persephone said as she slumped away.
"Persephone," Hades spoke with a gentle tone. "Would you kindly head to Earth and watch over the Underworld there? I have Sally dog-sitting Cerberus while we're here."
Persephone jumped into the air and started clapping. "That's wonderful! I'm so excited to hear Apollo's music again finally. It's been so, so long."
Hades laughed. "What are you talking about, Persephone? We have him locked away when he went mad after the Atlanteans left Earth."
Persephone slouched to stop. "Oh. I thought you were finally letting him free."
"No…Why would you think that?"
"Don't you remember his prophecy?"
"Apollo was constantly spatting doomsday prophecies. That's why we tricked him into transforming into a harp and locked him up."
"I remember the one he said to you and bothers after you chained him up. It was so beautiful the way he sang it." To the tune of a children's melody, Persephone danced and sang, "The ice cream girl from Hell touched by the end-timers will set me free."
The flame of Hades hair mellowed. "Oh, heavens."
Sally approached the harp without any hesitation. She plucked a sting, filling the entire room with its note. The harp shimmered brighter and brighter, forcing Sally to shield her eyes with her arm until the light subdued. With the light gone, she saw in place of the harp a man with radiant golden skin. He shook his head, causing his long, curly brown hair to dip down to his knees.
Hades kicked down the door. Sally flinched to the sound of the door crashing into the instruments.
"Apollo!" Hades said with his fists clenched.
"Uncle Hades," Apollo greeted with warmth. "It's so good to see you!"
"Wait, what's going on?" Sally interrupted.
"Sally, go to Cerberus," Hades said.
"Why?" Sally said. "This is Apollo. What's he doing here?"
"I became overwhelmed with visions of the future," Apollo explained as he walked toward Hades. "Then, Dionysus got me drunk, while Zeus, Poseidon, and Hades here locked me away here."
"You were ranting non-stop about the destruction of a universe, someone collecting demigods, and I can't remember what other nonsense," Hades said, getting in front of Apollo. "You also became insistent on making sure those doomsdays would happen."
"Not that they needed my guidance," Apollo scoffed. "According to my original calculations, shouldn't the universe have cracked?"
"It did, but it was resolved and turned out to be no big deal," Hades said.
"Okay, time-out! Time-out," Sally shouted like she was babysitting some fighting siblings.
Both Hades and Apollo looked at Sally.
Sally pointed at the ground. "Sit. Both of you."
Hades crossed his arms. "I'm not going to sit."
Apollo smirked. "I didn't need to look into the future to see that coming."
"Look," Sally started, "I don't know what happened back then, but Apollo hasn't been ranting about the future since I've been here."
"That is true," Hades mumbled.
"Without as many followers believing in me, I suppose my powers have weakened over the years," Apollo said.
Sally put her hands on her hips. "Well, it sounds like you all just need to talk it out now. Just don't resort to locking people up or having their liver pecked out or whatever you all did in the past."
Apollo sighed. "I guess I didn't leave you many options back then."
"Oh, Zeus had many options for dealing with you back then, but this one seemed the least sadistic."
Apollo laughed. "How is my father nowadays?"
"He's still an ass, but he's matured."
"I guess I should pay him a visit."
"You should. I do know Persephone wants to see you again."
"Oh really? Maybe I can join you for game night?"
"Haha, no. I still remember what you cheat you are."
"Surely you got some games I can't cheat,"
As the two walked out of the room, Sally picked up a neon purple electric guitar. She pretended to play it as she walked back to Cerberus.
---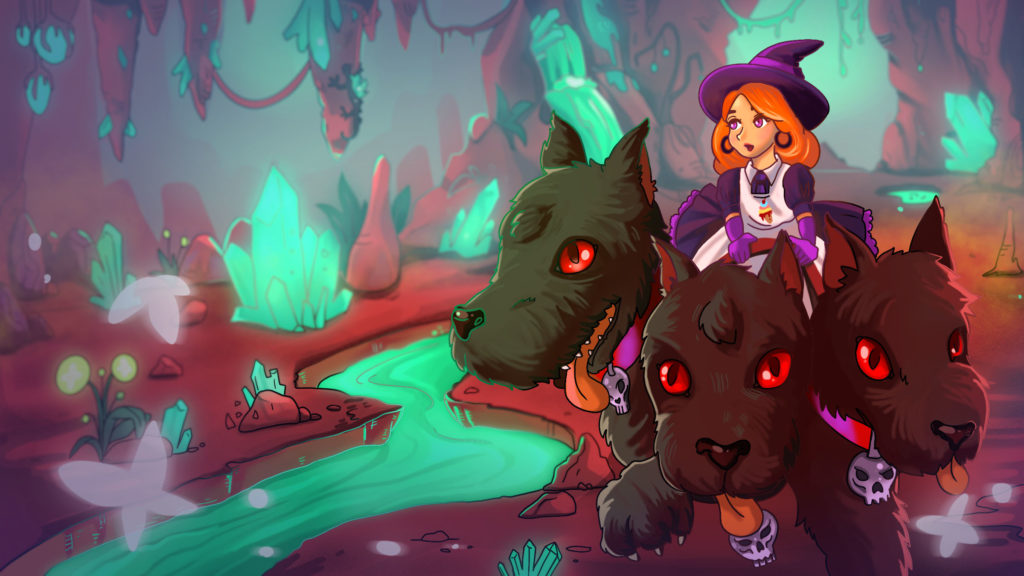 This short story was inspired by the following writing prompt: "As you may know, Mr. H, I have had a good experience as a professional dog sitter but clearly this is a task too monumental to take on. I mean this is Cerberus we're talking about!"
When I saw this prompt, I pictured Sally from #TwinCities. This story takes place after their original meeting, so if you enjoy this adventure, be such to check out the first one.
Thank you to Chia Yee Liow at Design Pickle for bringing this scene to life. The butterflies Chia drew I incorporated into the story.
Thank you for reading this story!