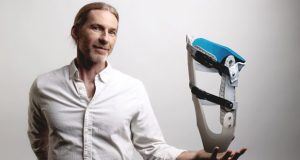 Improving Comfort and Lives in Prosthetics
Written by me for the Oklahoma Venture Forum.
During Jay Martin's early days of his clinical work in prosthetics, he learned his patients' functional abilities were limited not as much by their amputation as by the lack of technology available in the field. With his love of inventing, Martin saw an opportunity to advance the field of prosthetics to provide more comfort, more functional abilities, and quality of life back to amputees.
"We think of prosthetics as being a very high-tech field, there are some great advancements have been made in recent years, artificial intelligence and new control systems and robotic devices, but prosthetics, in my opinion, has really been a very stagnant field, and it's very much in its infancy still," said Jay Martin, founder of Martin Bionics. "I'd argue the vast majority of amputees, quality of life with prosthetics is but a shadow of what it could or should be if technology were further along."
While Martin believes features like better control systems and better sensors are significant, the greater good revolves around socket comfort. The socket is the part of the prosthetic that the body interfaces with, and Martin compares conventional sockets to feeling like wooden clogs.
As Martin set out to improve the quality of life aspects in the prosthetics field, he got an opportunity to work with NASA on three different exoskeleton programs. One was an Iron Man suit for special ops SEAL Team Six, another was a fabric-based exoskeleton, and the third was an exoskeleton for astronauts.
"With all three programs, they were all very challenging in their own regards," said Martin. "We created kind of what became the foundation for what we have now as the socket-less socket technology, which is our main product line. And really what I developed was I developed an understanding and awareness of how to connect man and machine with compliant, dynamic materials in a way that would achieve maximum comfort, but also maximum control and stability within the device."
Compared to conventional prosthetics, the technology at Martin Bionics more modular. Their modular sub-components can be assembled with simple hand tools to fit and match the user. Martin said this bypass much of the fabrication processes needed to make conventional prosthetics, allowing them to fit their sockets faster, more efficiently, and effectively.
"We have a new generation of technology that we're working on right now that expedites that process even further," said Martin. "We're already leaps and bounds faster than conventional fitting methods to achieve and can achieve greater results, but where we're going is making it just faster and more efficient."
One of Martin's main goals for the company is an outreach program to serve patients in developing nations who don't have access to prosthetics. Martin explained the problem is threefold. Most parts of the world don't have a trained clinician who has years of experience fitting a hard piece of plastic to the human body. They also don't have the tools or resources, or lab equipment to fabricate a conventional prosthetic. Lastly, they don't have the funding to support buying the components.
"Our technology overcomes all three of those," said Martin. "The hard cost of making our technology is very scalable. We can train a layperson anywhere in the world to fit our prosthetic technology and to provide a long-lasting, comfortable prosthetic, and we only need simple hand tools. We don't need expensive fabrication lab equipment. Missionaries will backpack into villages and fit our socket technology on amputees in real-time with simple hand tools and have amazing results."
Jay Martin will be speaking at the Oklahoma Venture Forum Power Lunch on Wednesday, April 14, 2021. Martin said he is excited to share with the community some of what's unfolding for them at Martin Bionics. Be sure to register for the online ZOOM event to learn more about turning around a business, asking your questions, and networking with entrepreneurs in Oklahoma.