Hello, everyone!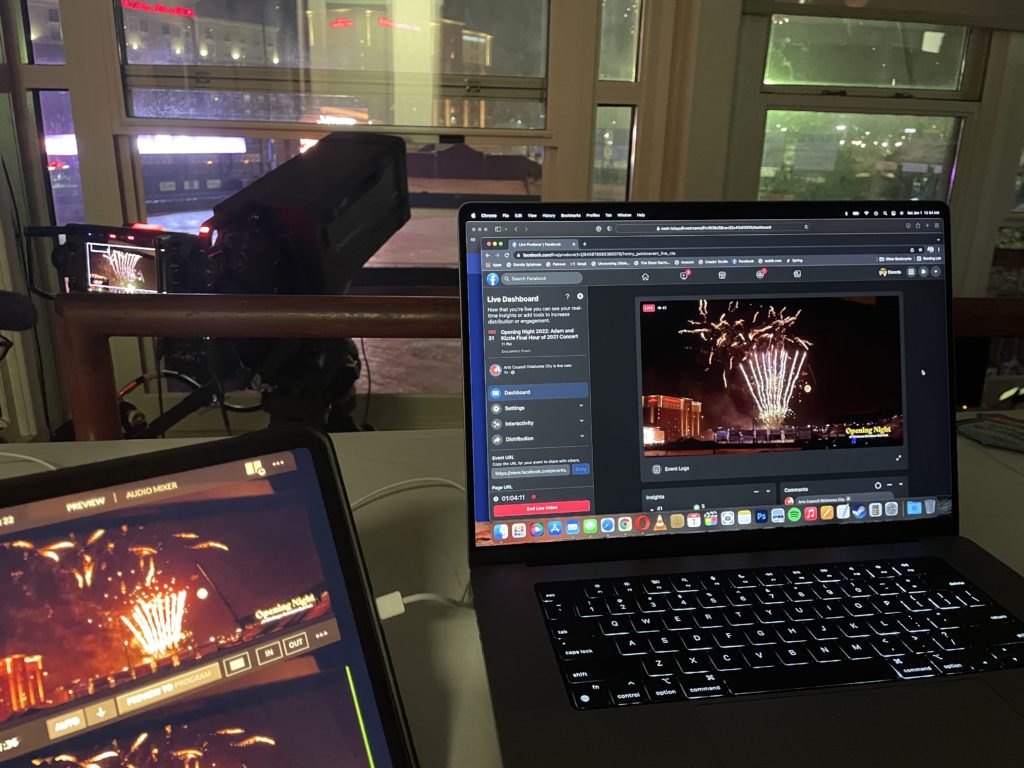 Continuing on what I started last year by writing my end of the year reflection in the new year instead of the last day of the year. For New Year's Eve, I was hired again by the Oklahoma City Arts Council to live-stream their Opening Night event, but this time around, I only broadcasted the last hour while I roamed around capturing b-roll and photos.
2021 was filled with exciting client projects. Starting with the Arts Council of Oklahoma City, I live-streamed their Twilight Concerts for them during the summer again. For Oklahoma Contemporary, I filmed several videos, including some big pieces on Ed Rusha. I worked again with the Oklahoma City Museum of Art recording a series of lectures and art tours. Ran around with deadCenter Film for their festival, new office opening, and Glitter Ball. I got to be part of the media team for the Oklahoma Summer Arts Institute in Chickasha. I live-streamed the performances at the Asain Night Market Festival in the summer, which was so entertaining. Did a big concert video with Graham Colton in November.
I filmed a feature-length movie, About A Bear, with Namron Players Theatre. About A Bear is a mockumentary of stories and memories from the Norman community of the "bears" people have faced over the past 14 months during the pandemic. I also helped with their New Plays of 2021.
The client that kept the busiest was Exhale. The company plans to revolutionize lung rehabilitation with an online 12-week rehab program. I've been filming all of their educational, exercise, yoga, and promo videos, of which there are over 100! They plan to launch early this year. I'm super excited for them.
I think I covered all of my major client work in 2020 as I kept rather busy last year.
Before writing this post, I kept wondering why I didn't do as much for myself, but when I looked at what I did for others, I feel great at what was accomplished!
Uncovering Oklahoma in 2021
I'm going to start with the biggest news: I was honored with the Governor's Arts Award for Media in the Arts by the Oklahoma Arts Council. I feel great appreciation for the recognization of my work throughout the years.
I knew 2021 was going to be a crazy year going forward, so I shifted focus on Uncovering Oklahoma to film monthly episodes with multiple places. In other words, I did the series more like a travel show. Although I did some individual stories too.
According to YouTube, my videos got 48,885 views in 2021 with a watch time of 2.2k hours, and 264 new subscribers. Here was the Top 10 most-watched videos in 2021.
10. Oklahoma State Fair Food 2019
9. Winchester Drive-In Theatre
8. Great Salt Plains State Park
7. Guthrie Ghosts
6. Press Waffle Co at The Collective
5. Wicked Forest of Terror
4. Magnetic Hill in Springer
3. A Day in Bartlesville
2. Black-Owned BBQ Restaurants
Gathering Place
Tales Unveiled in 2021
For the fourth season of Tales Unveiled, Jeff and I kept the season short with five episodes. However, with a shorter season, we were able to produce our most interesting fictional narrative arc. Having Kristy Boone back was great.
As for the most listened-to episode at the end of the year, I'm Here at Flower Bluff Manor was the most popular. This was the episode where I captured a real EVP.
Minor Spoilers: The season ends with Geoff's character disappearing. We do have some ideas for a possible fifth season, but there has been some talk that Jeff may be moving, so we do have an ending if that is the case.
The 16th Phoenix Universe in 2021
In 2020, I wrote a new short story pretty much every week while for 2021, I scaled back with longer stories, but once a month. For 2022, I'm going to keep up with the monthly stories. I've been enjoying building my fictional universe.
One of my most popular short stories was I'll Never Walk Sutton Wilderness in the Dark Again, which was the first story where people asked if they could read the work aloud on their podcast or show.
I did continue work on my various books, including a collection of my short stories, which are in the process of being edited.
Top Songs of 2021
According to Spotify, which is how I mostly listen to music, this was my 2020 soundtrack. As always, keep in mind I will often put a song (or playlist) on repeat when writing or for inspiration sessions. Maybe you'll find a new favorite song?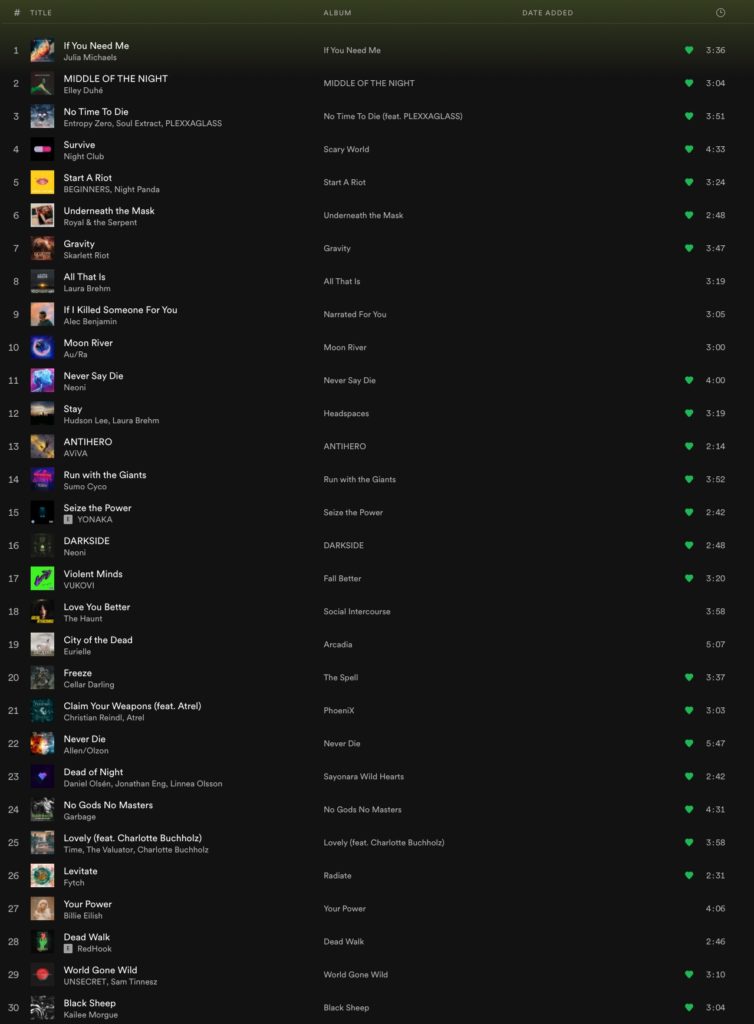 Plans for 2022
I've been going back and forth on what I want to share for plans for 2022, which has caused me to delay publishing this reflection. There are tons of content I want to create with the goal of building a studio venue. As a proof of concept, I worked with Janine De Guzman to get this vision for The Show Starts Now Studios out of my head.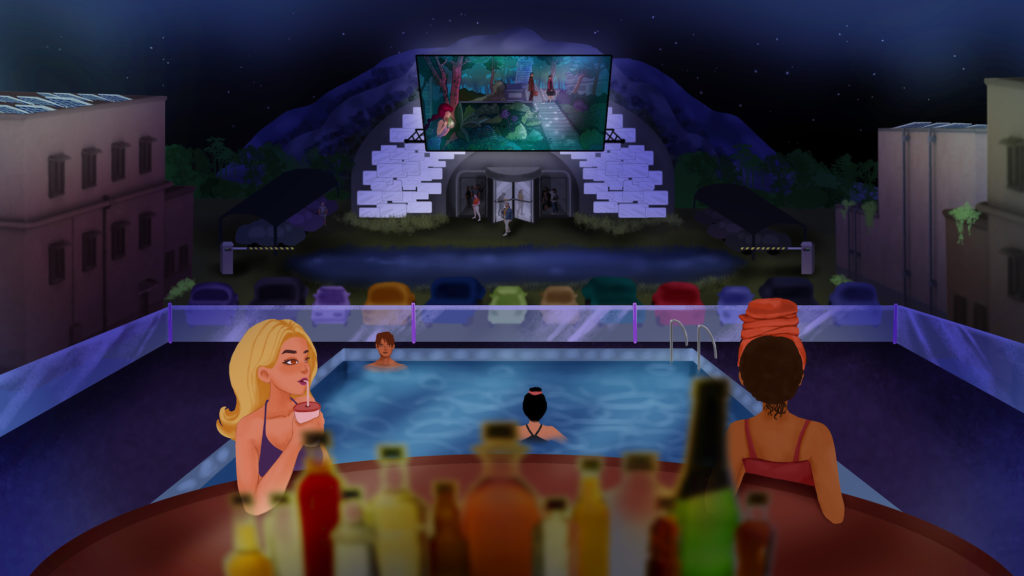 Let me explain what's going on in this scene. People are enjoying drinks on a rooftop pool-themed bar while watching a show on a massive drive-in movie theater screen. There are cars parked also watching the movie while people are entering the Earth-built studio to watch live productions. This is part of the entertainment experience I would love to create with The Show Starts Now Studios.
Getting to this goal is the question. I think I have a plan to get there. I've been putting all of these elements and pieces together, learning along the way. As of writing this post in January, the path involves creating an OTT service for all of my shows, movies, and documentaries. There's more to the plan than having a monthly subscription streaming service, but I won't go into those details. Though I will say I will be focused on adding adventure to people's lives, so I won't be directly competing against anyone and positioning myself as a niche add-on. As I've been soul-searching and figuring out my "glorious purpose," everything needs an adventure.
Art & Victory and Yes! Science! will return. I'm going to give my art travel show, Colorful Escapes, another go. I got two other travel shows I've been talking to people about starting. I got educational content planned. There are card games (plural) in the works and so much more. I have some documentary films I'm putting together too.
I feel like such a weirdo/freak at times with all of the things I want to do and make, but this makes me happy. I just got to remember to pace myself and focus.
Thank you everyone for your support in the past year. I hope to continue to join me in my endeavors.
Happy Adventures!