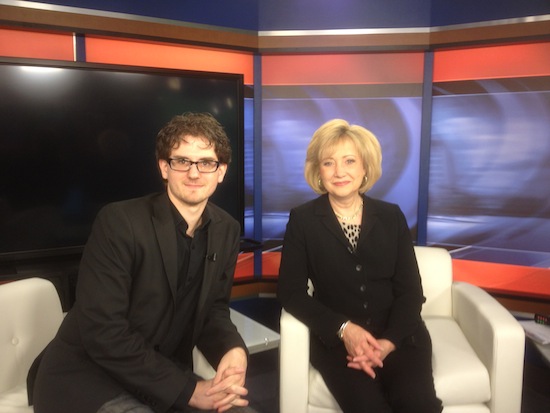 Today was my live TV interview on the local news station, KFOR, with Oklahoma royalty, Linda Cavanaugh, talking about my book,
Uncovering Oklahoma's 2013 Date Idea Book
. (I was asked on Facebook by a friend if I was knighted by Linda, which I wasn't…this time.) I arrived shortly after 4 pm and met up with the producer, Tara Blume. Tara and I talked about the interview process, the places I would be mentioning, and their order so they could have video syned up to show what I was talking about. We had talked via e-mail in advance so she could have the footage ready of the places.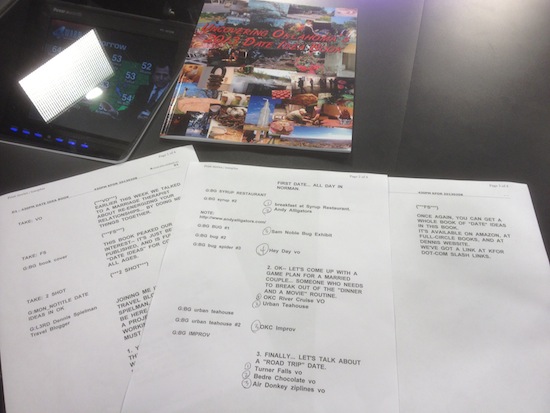 The amazing places that I talked about were Syrup, Sam Noble, Andy Alligator's, Hey Day, Oklahoma River Cruises, t urban teahouse, and OKC Improv. There were supposed to be three different scenarios: young couples, married couples, and a road trip date which had Bedre, Turner Falls, and Air Donkey Zipline, however, the road trip date was cut short due to breaking news. I'm totally cool with that because I got some time to promote the book.
My experience being there was so unreal. The newsroom where I hung out had a small, well-oiled crew. Everything just seemed so smooth and efficient from my perspective. Tara was great. Linda was really nice. I left her a copy of the book. They didn't do hair, make-up, or anything like that on me, although, I did come there looking awesome.
I have to thank my friend, Charmaine, for getting my foot in the door there! Thank you!
I also distributed copies of the book for sale at Full Circle Bookstore, I.V.C. Gallery, and Put A Cork In It. It has been a busy day. I hope all of this work pays off. Goodnight!