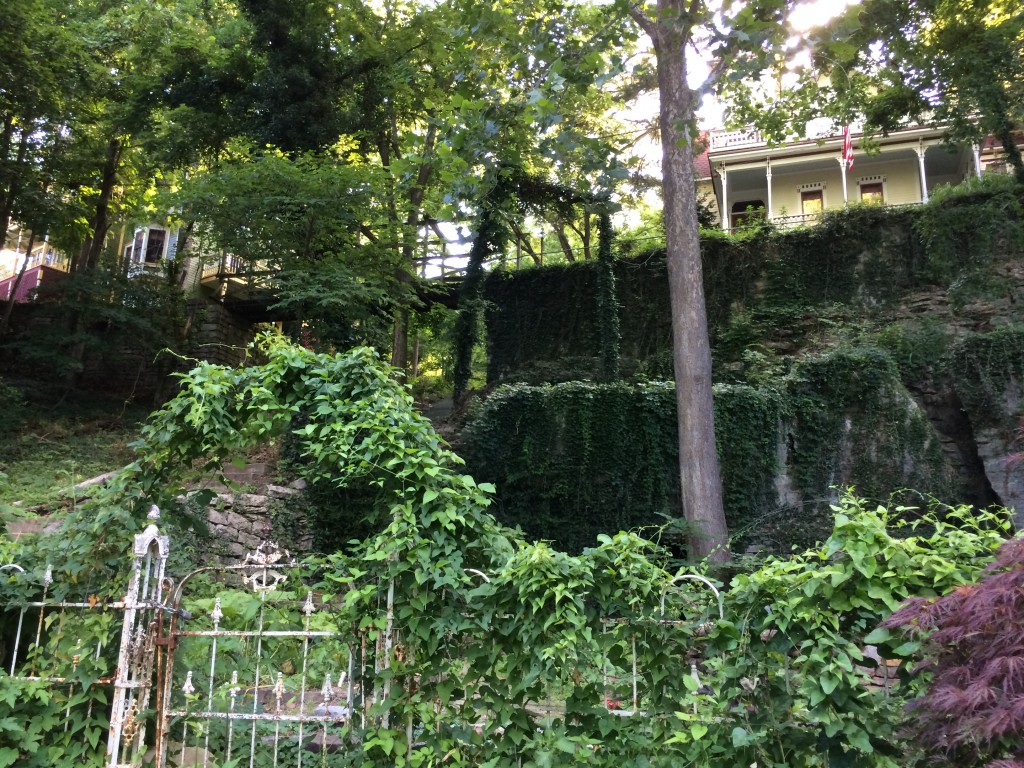 For the Fourth of July weekend, Leslie and I took a vacation in the beautiful Eureka Springs, Arkansas. The one word we joking used to described our trip: stairs. Eureka Springs is a hillside tourist town and so we walked along many up and downhill trails, slopes, ramps and, of course, staircases. Don't let the workout discourage you–it's worth it. Fortunately they have an excellent trolly system, and I suggest buying the all-day pass to get around hilly town. It won't rescue you from ALL the stairs, but you'll be glad for the break.
Here's an overview of our trip for ideas for your own adventure.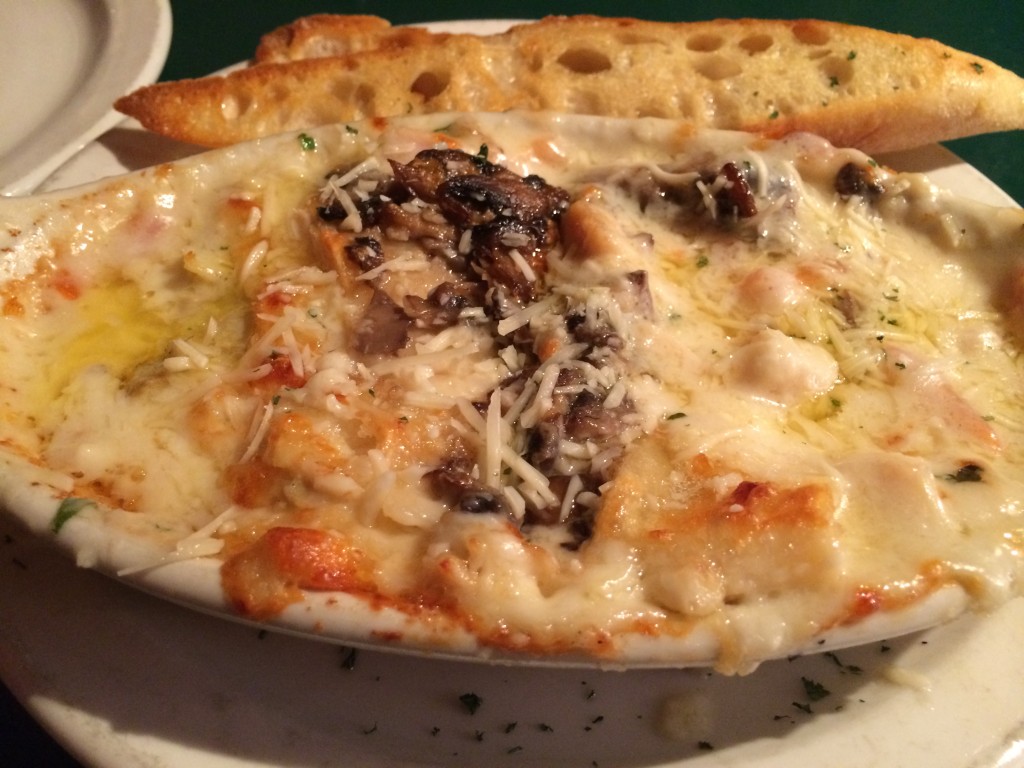 After checking into our hotel, we had dinner at Cafe Amore (2070 E Van Buren, Eureka Springs, AR 72632). We split the hot and delicious Friday Special – Homemade White Lasagna with Alfredo sauce, chicken, bruschetta, artichoke, mushrooms and 3 cheese, with salad and garlic bread. For dessert we shared a piece of Slow Death by Chocolate Cake (which was as delicious as it sounds, if not actually deadly).
We drove around the town for a little bit to get a feel for the town. Driving around the major highway roads, there isn't much to see. However, I was wowed when we turned into Historic Downtown Eureka Springs, for this is where the city truly shines. We took a short walk and then we went out to a nearby resort for a fireworks show (it was the 4th of July, after all!).
Saturday morning we went out for breakfast at
Cravings
(508 Village Circle, Eureka Springs, Arkansas 72632). When we arrived, they weren't open quiet yet. Across from them was Pine Mountain Tower. The tower was originally used by the forestry service and is 100 feet tall, and with a dollar in quarters and a tight squeeze through the security gate you can climb up to the top if you like. And we climbed it, all 100 feet of rickety wooden staircases and swaying metal bars (not for the faint of heart, let me tell you)! Pictures for proof, just ignore Leslie's crazy wind hair. I think climbing climbing down was a bit more nerve racking than going up. (Are you starting to see why we described the trip with the word 'stairs'?)

By the time we got down, we had worked up an appetite for breakfast (and could no longer feel our legs, but that's the price you pay for adventure sometimes). Because Cravings is not part of the touristy downtown, it is considered a hidden gem by the locals. There was a generous selection of breakfast items, including muffins and cinnamon biscuits, as well as cookies and cupcakes. We highly recommend them, even if you're on a diet, because we believe that you don't gain calories on vacation. OR you could always go up the tower afterwards 😉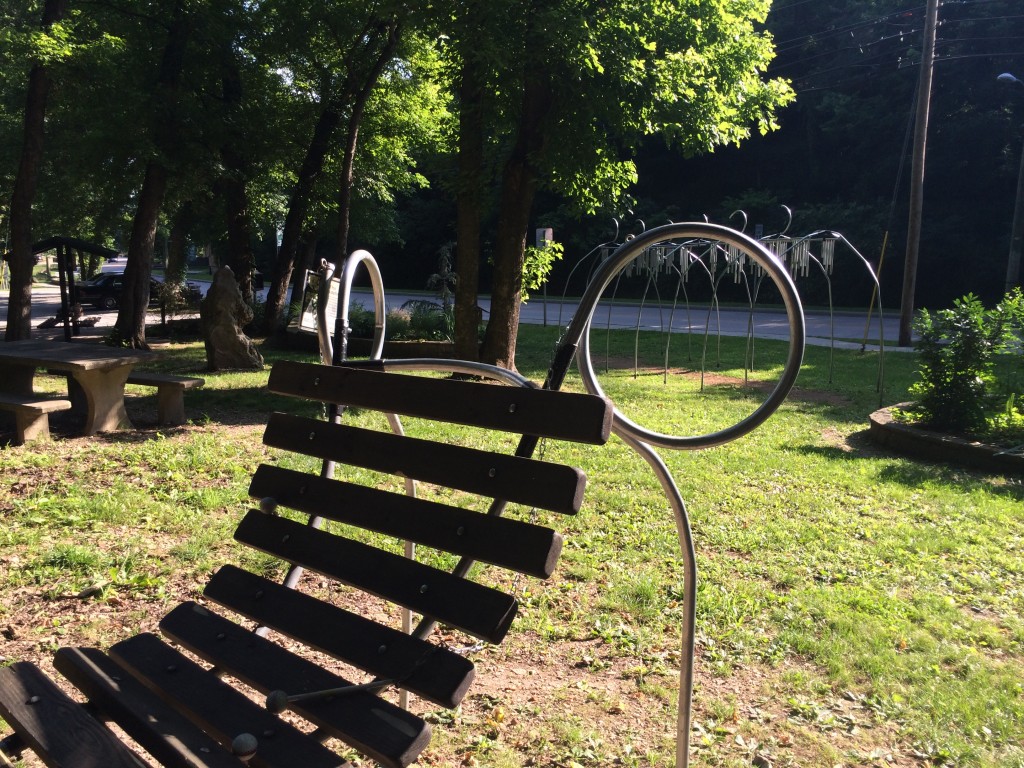 After breakfast, we drove to the downtown area. We left our car at one of the few free parking lots, which is a bit north past everything, and journeyed towards downtown on foot. Our fist attraction was the music park, a novelty to both of us. It contains a mix of musical sculptures that were designed to be played, such as a giant xylophone, a "walking" wind chime tuned to the song "Give Peace a Chance" by the Beatles, and other interactive musical instruments.
Above, a gallery of some of the sights seen in the Historic Downtown.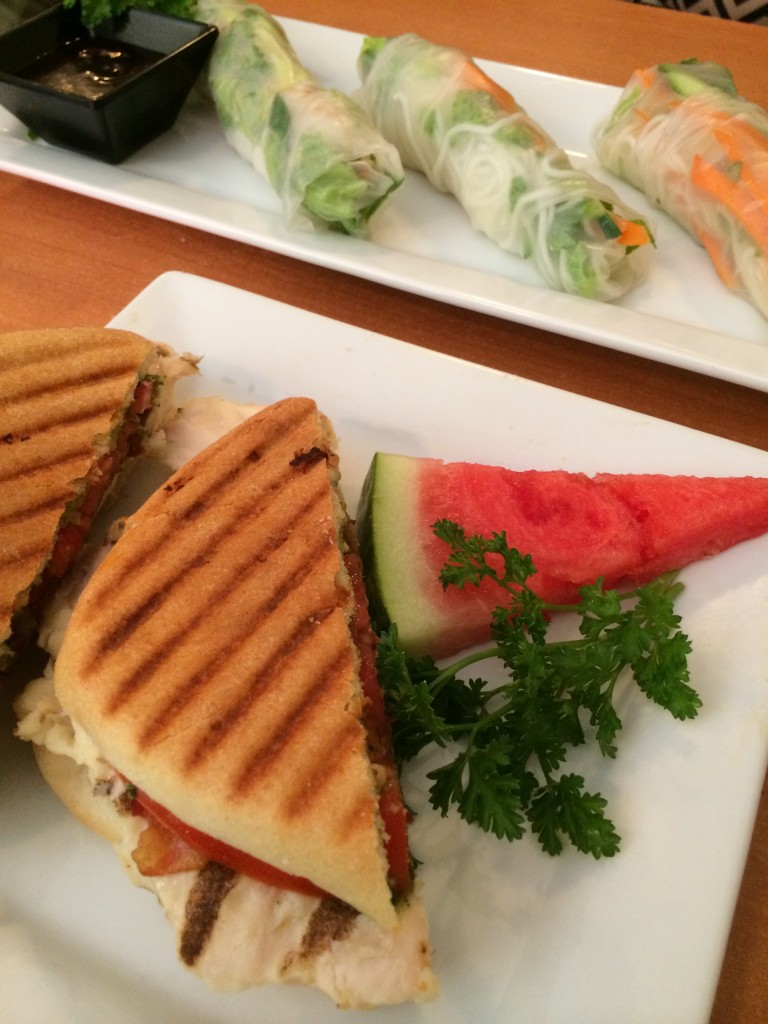 For lunch that day, we ate at Nibbles Eatery (79 Spring Street, Eureka Springs, AR 72632). One of the tiniest restaurants I've had the pleasure of eating at, Nibbles had a staff of three people – waiter, busboy, and the chef. If you can get a seat, take it before it's gone!
While essentially the entire town is a community of artists, The Art Colony is a hodgepodge of studios and living spaces for local sculptors, painters, and more. I give it huge props for it's unique architectural design. The bridge to The Art Colony is an excellent example of the creative spirit within the space.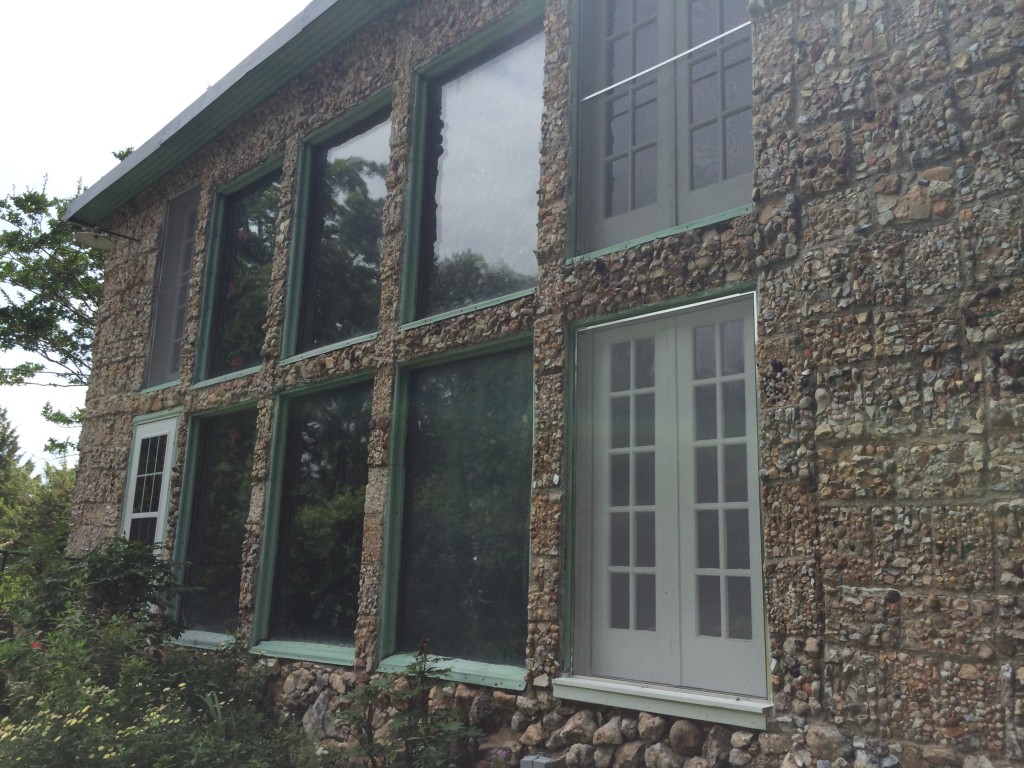 One of the most popular tourist attractions is Quigley's Castle (274 Quigley Castle Rd, Eureka Springs, AR 72632). Quigley's Castle was the dream home of Elise Quigley, a nature enthusist who lived from 1910 to 1984. Mrs. Quigley designed and hand-built just about everything on the property, from the fossil-studded walls on the outside of the home to the two-story tropical garden INSIDE the home. The garden paths feature over 400 varieties of flowers and lead around secluded benches, a lily pond and bird baths up to her home which she beautifully covered with stones and fossils she'd collected since childhood. Quigley's Castle also has butterfly, fossil, crystal, arrowhead and glassware collections beyond imagination.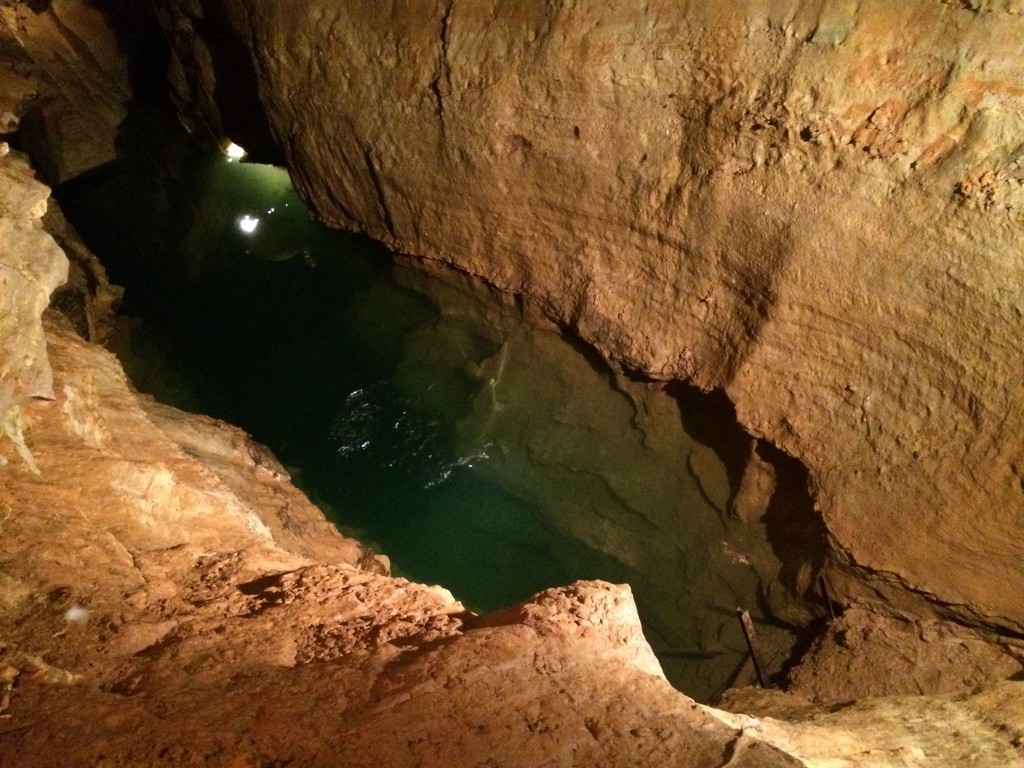 From the castle, we drove up to Cosmic Cavern (6386 Arkansas 21, Berryville, AR 72616), a delight for adventurers of any age. During the roughly hour long tour, we saw two bottomless lakes and various cave formations, including one of the longest soda straw formations in the Ozarks. The privately owned cave is camera friendly and there are several photo opportunities throughout the tour. Bring your good walking shoes, however, and be prepared for some low ceilings, slippery patches and, of course, stairs.
The rest of our Saturday evening consisted of exploring gift shops back in Downtown Eureka Springs. We enjoyed burgers and waffle fries for dinner at the New Delhi Cafe and enjoyed people watching from the patio as the sun set.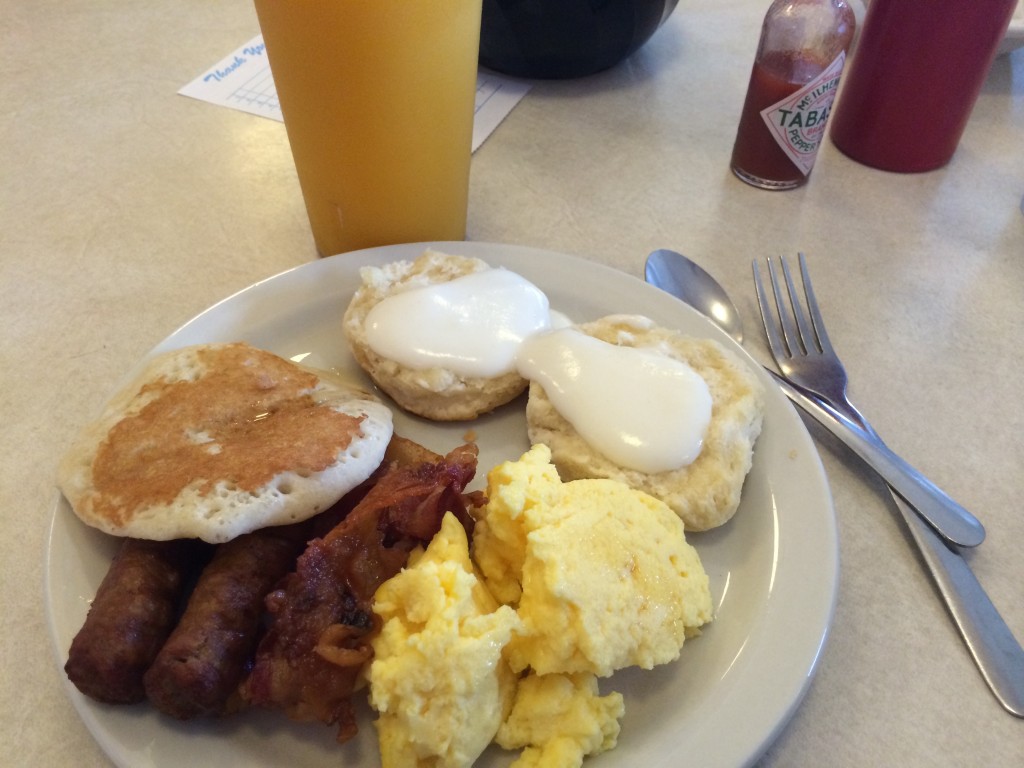 Sunday morning, our last day, we had the all-you-can-eat breakfast buffet at Pancake's Family Restaurant (2055 E Van Buren, Eureka Springs, AR 72632). Obligatory American breakfast picture above for reference.

Bunnies aren't just cute like everybody supposes. There's a gift shop, East by West (9 Center St. Eureka Springs, AR 72632), we stopped at that is home of the Working Bunnies. Yes, these are actual rabbits, and once we heard about them we had to see it to believe it. I bought my sister a birthday card from there to see the bunny in action. The store owner gave the bunny the package and the bunny gave it to me.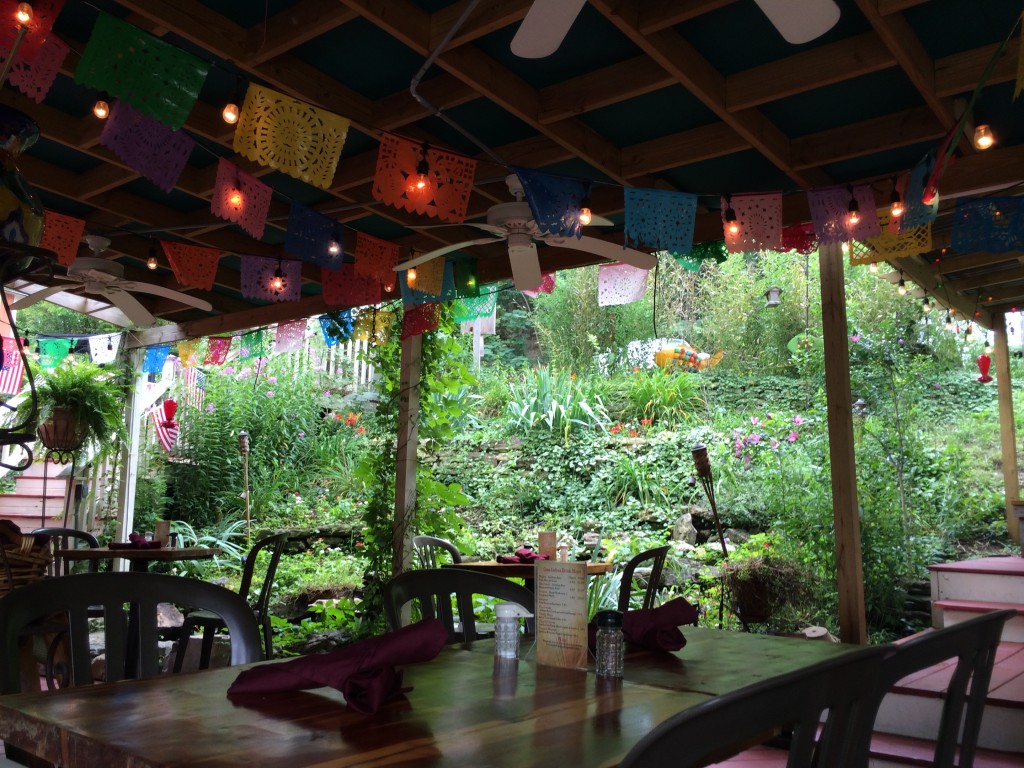 For lunch on our last stop out of town, we had lunch at Casa Colina (173 S Main St, Eureka Springs, AR 72632). The picture of their patio just goes to show that there is hardly any place in Eureka Springs that is not picturesque.
From Oklahoma City, the drive to Eureka Springs was about five hours. There were plenty more attractions nearby that we just didn't have the time to see this time. If you are thinking about making a first-time visit, it would be fun going with a group of friends and everyone could stay together in a treehouse. We personally recommend Eureka Springs for a vacation destination.
Happy Adventures!