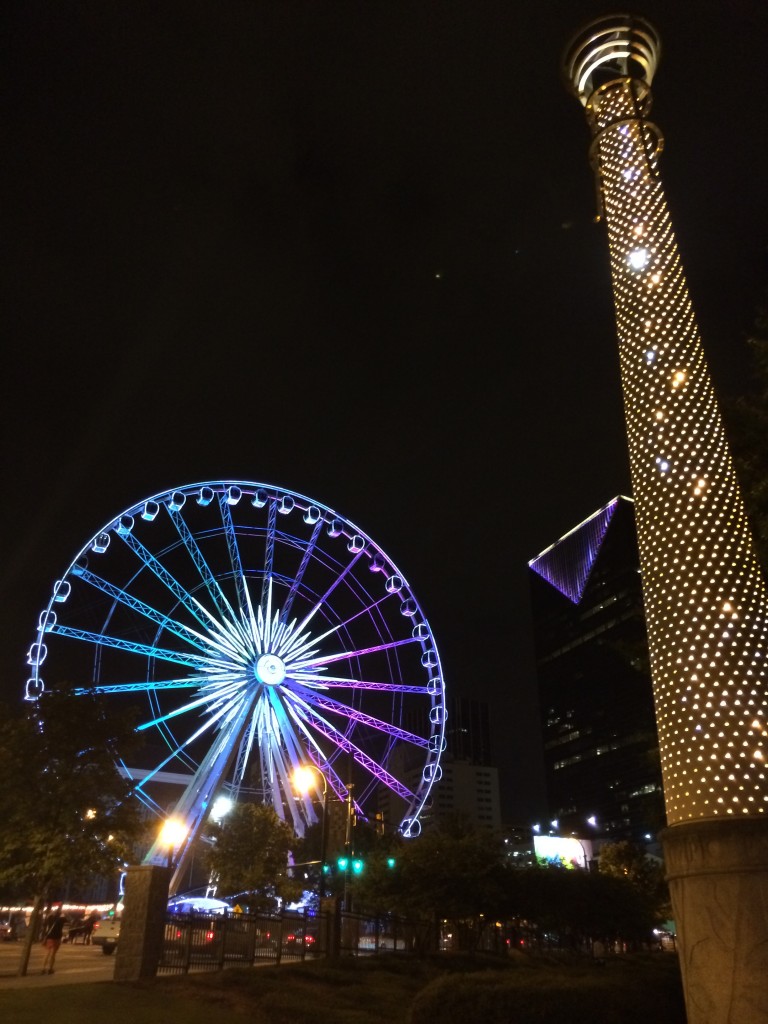 During an extended Labor Day Weekend trip, Leslie and I flew to Atlanta, Georgia to visit my family and explore the city. We took a 5:30 a.m. (blah, so early) direct flight to Atlanta, arriving there around 9 a.m. local time.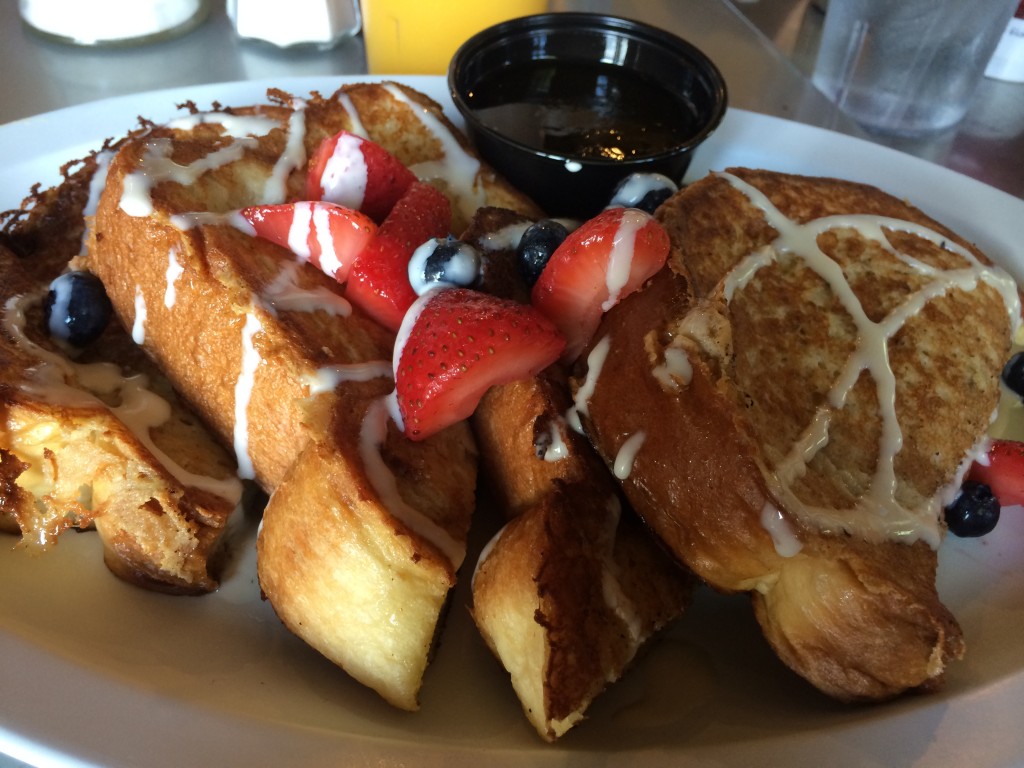 My parents took us out for breakfast at Highland Bakery located in the Old 4th Ward. We all had seen them on a food show on Netflix, and since my parents hadn't been there yet, we HAD to go. I had their french toast, pictured above, and it was delicious. The $10 meal was made with thick slices of challah bread and topped with fresh fruit and French cream.
After breakfast, they drove us to the tiny town of Juliette, which was on my Mom's To-Visit List. If you've seen the movie Fried Green Tomatoes then the town will look familiar. I personally hadn't seen the movie. Along with handful of antique shops and sets leftover from the movie, there was the actual Whistle Stop Cafe. We didn't eat there as it was busy and we were still full from breakfast.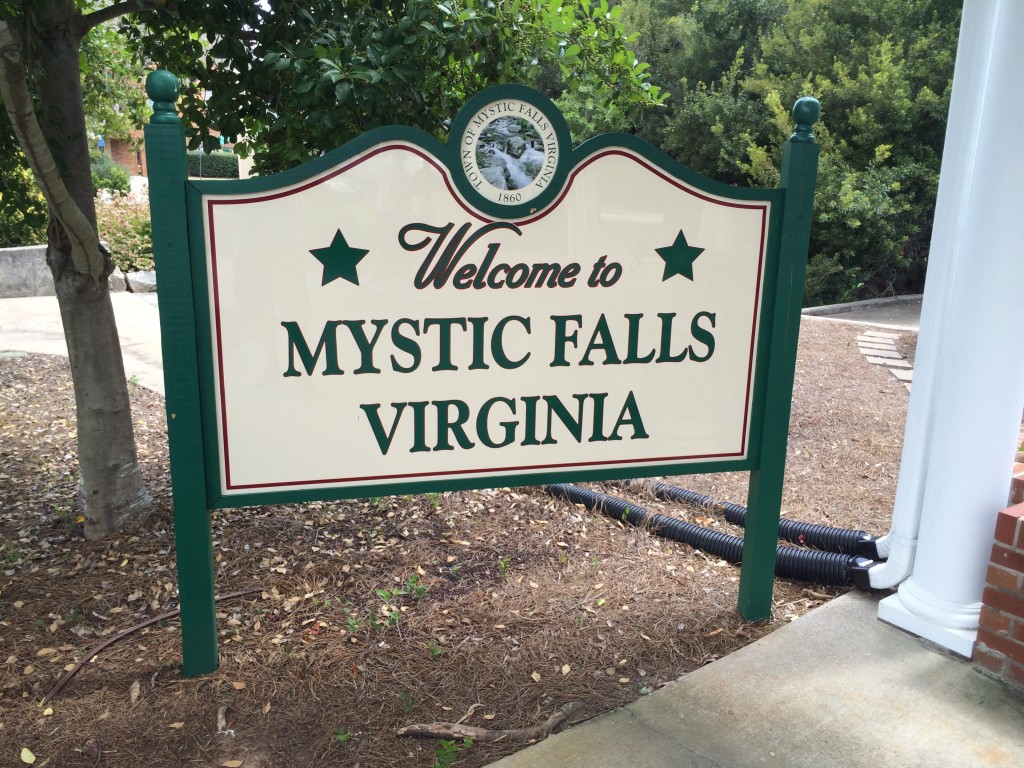 Keeping with the movie locations theme, the next town we visited was Covington. We didn't explore too much as Leslie and I were tired and needed to check into our hotel. I did snap a picture of the Welcome to Mystic Falls sign from the TV series Vampire Diaries.
The rest of the Saturday evening consisted of us people watching the cosplayers from Dragon Con (which we weren't able to fit in), roaming downtown as we had dinner at Jalapeño Charlies.
On Sunday, Leslie and I went to the
Atlanta Botanical Garden
. Go see it. My photo gallery barely scratches the surface of it's size and beauty. We spent half the day there. Just, go visit.
The other half of the day we took my first taxi ride, a completely stereotypical experience with the driver honking and rolling the window down to yell at people. Our ride brought us to Lenox Square a.k.a. the rich mall. In one of the stores I picked up a $2,000 pair of boots–and then quickly put them back down after seeing the price tag. $2,000 for shoes! Nope. Not for me. Still a cool mall. There was a cupcake shop called Sprinkles where we enjoyed some yummy cupcakes.
Monday morning was spent with my family at
Underground Atlanta
followed by shopping at
Atlantic Station
, which we enjoyed more. For lunch we ate at
The Pig and The Pearl
, where I had the Knife & Fork Brisket Sandwich. It was good, but too smokey for my tastes.
In the evening, we took a long drive to Helen, which I had
visited before
with my family, but not with Leslie. We didn't go tubing–didn't want to carry around the clothes for it–but we explored the shops that were still open. We didn't get back to our hotel until very late that night.
Our final day, Tuesday, was spent in Five Little Points (again,
been there before
). Leslie got herself a spa treatment while I wandered around.
Front Page News
was for lunch before we caught our flight back home.
While we did a ton things, we didn't do everything we wanted. I guess we have an excuse to go back. 🙂