I've had the honor of being invited to speak at the Norman Public Library West about my Uncovering Oklahoma Date Idea Books. My first presentation was on Friday, February 20. This was first time I gave a talk about myself, what I do, and my travels. I enjoy talking to people about places, so I knew talking in front of crowd, about something I was passionate, I would be comfortable.
Before the event though, I sent a tweet out to one of my favorite writers, Neil Gaiman, asking for advice. To my joy, and later embarrassment of the typo I made, he responded. The conversation went as such: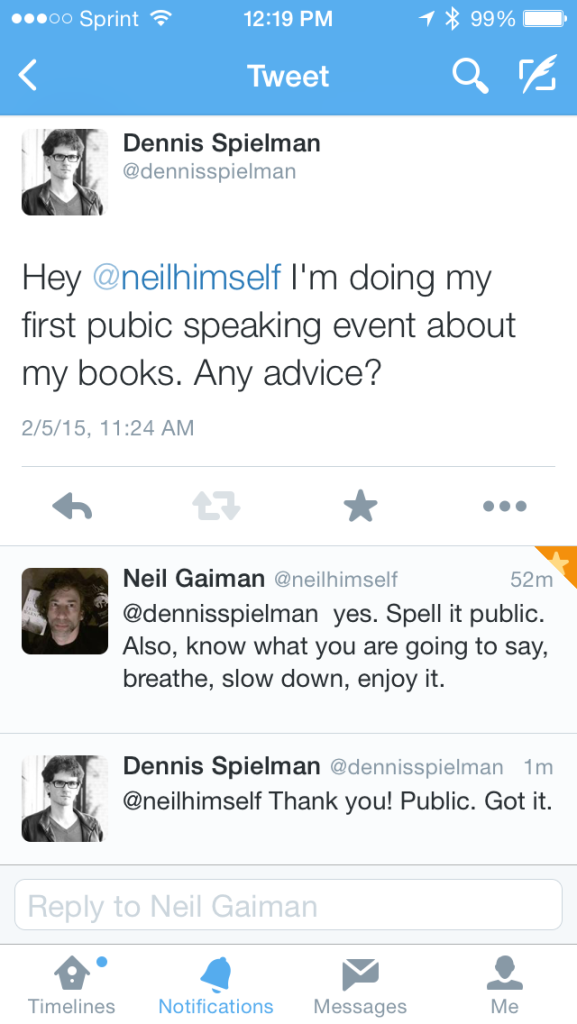 Wisdom I kept in mind.
The subject of my first talk was road trip ideas. I spoke about such places as Talimena National Scenic Byway, Heavener Runestone Park, Center of the Universe, Chickasaw National Recreation Area, Arbuckle Wilderness, and a few others. Overall, the presentation was about 20 minutes.
The feedback I received on the first presentation was it was okay, however, people wanted it to be be longer and more in-depth. They also suggested to have more pictures, give a prize, show off the Uncovering Oklahoma site, and share some videos.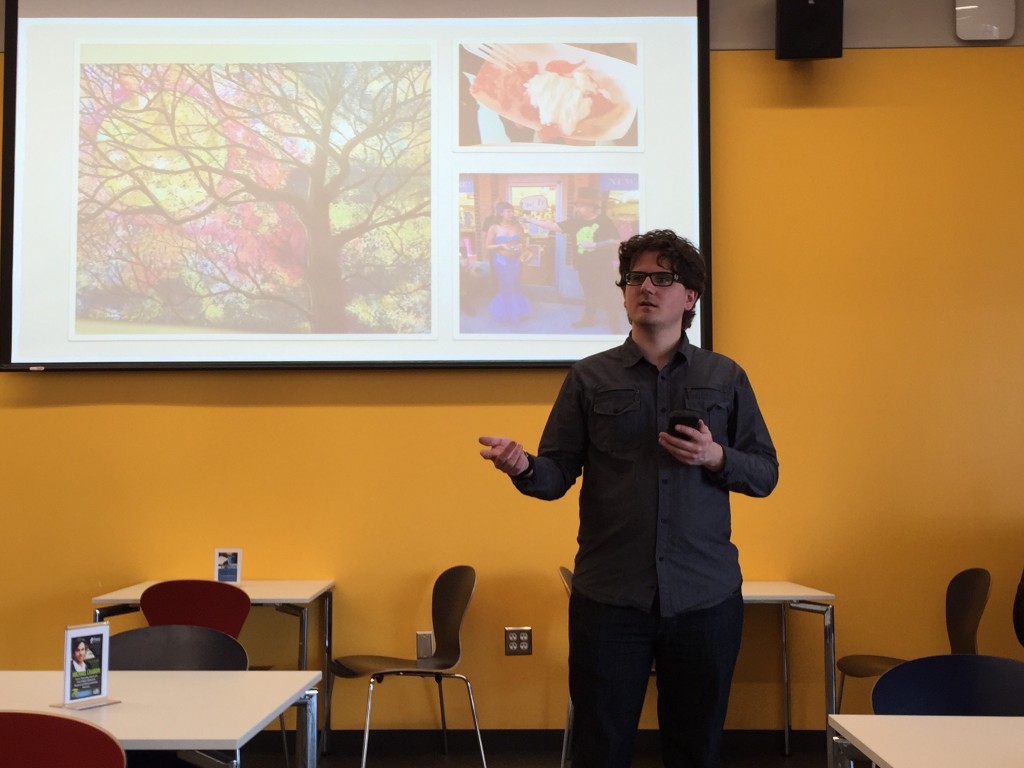 I took everyone's comments and the next time I spoke in March on the subject of date ideas, it was nearly an hour long. Fewer people showed up for the second one–partly due to bad timing as it was also spring break and there were St. Patrick's Day celebrations. Despite the lackluster turnout, I felt way better about everything and I enjoyed myself. Plus, I have a solid presentation for future use and I got pictures of me speaking to add to my resumé.
To recap what I've learned:
1. Know What To Say
2. Breathe
3. Pace, don't rush
4. Pictures are awesome
5. Have text with slides for viewer note taking
6. Video clips are awesome too (doesn't have to have sound to be effective)
7. Give something away
8. Investigate surrounding days for scheduling conflicts
9. Enjoy It
10. It's Public Speaking – Not Pubic Speaking