Hello, Adventurers!
It's New Year's Eve, which means it's time to work on my end of year reflections. As customary, here's some numbers of what I've accomplished in 2018.
Weekly Videos for Uncovering Oklahoma: 55
Artist Statement Minutes: 20
Yes! Science! Videos: 7
Tales Unveiled episodes: 10
-Uncovering Oklahoma in 2018-
Since Uncovering Oklahoma was my biggest project of the year, I'm going to discuss how that went first. I'm to start by sharing the top ten most viewed videos on both Facebook and YouTube. This list only includes videos that where made in 2018. Videos that I made a previous year that were still watched this year, I kicked them off.
Top 10 Most Watched via Facebook in 2018
10. CHAOS (2K)
9. Colorful Escapes in Norman (2.3k)
8. The Miller Grill (2.4k)
7. Kwan's Kitchen (2.9k)
6. Gathering Place (3k)
5. The Ruins Bar & Grille and The Sanctuary Escape (3k)
4. Factory Obscura's Beyond (4.5k)
3. Red Rock Canyon State Park (7.8k)
2. A Day in Bartlesville (19.7k)
1. Gogi Go (19.7k)
Top 10 Most-Viewed via YouTube in 2018
10. CHAOS (264)
9. Vacca Territory (273)
8. Kwan's Kitchen (324)
7. Jimmy's Round Up Cafe (334)
6. Illuminations (367)
5. Factory Obscura's Beyond (378)
4. HunnyBuddy Biscuit Co (399)
3. Gathering Place (522)
2. Gogi Go (871)
1. Oklahoma State Fair Food of 2018 (3,290)
It's always interesting to see how different these two lists are from each other. The thing to keep in mind is that I use the YouTube videos for the website and I directly upload a copy to Facebook, which is where most people tend to watch my videos. Note that on the Facebook videos, the number next to them is not a view count, but minutes watched!
Growth for Uncovering Oklahoma has been great! At the time I'm writing this post, likes for Facebook was 13,130 (was 10,571 at the start of the year), Twitter was 3,549 (2,959 last year), and Instagram was 1,426 (new account this year). While my video views are way up compared to last year, the site visits were down 15% overall. There are two reasons I believe: more people were reading/watching via social media and I had a viral story last year.
I got to make some great collaboration videos like my Norman Music Festival interviews, A Day in Bartlesville, Film Row Pub Crawl, and Gathering Place. I traveled more outside the Oklahoma City area for stories, including Yukon, Tulsa, and Bartlesville. Lately, I've felt like there's too much going on for me to uncover, which is a good problem.
-Yes! Science! in 2018-
In its second year, Yes! Science! did better, both in performance and video quality. I have exciting new plans for season three.
-Tales Unveiled in 2018-
One of my new projects for the year was my first podcast series, Tales Unveiled. Jeff Provine and I did ten episodes sharing Oklahoma's spooky ghost stories. Unlike typical interview podcasts, Jeff and I took on fictional personas and did the series as a docudrama. Because of the show's format, it would take about three or four days to make one episode. The extra work was worth it as the show has had great reviews.
Jeff and I do have plans to record a second season in the summer.
-Quarter Minutes in 2018-
There wasn't any. I atempted, but just didn't make Quarter Minutes happen. I was more focused on making other projects happen. However, I have scheduled January 5th to film a few Quarter Minutes at Factory Obscura! I'm excited to get this show back on track.
-Books in 2018-
Another failure for this year was the lack of finished books. I did "finish" Intertwined by Cracks, however, I felt the story needed more. I was driving one day a few months ago when I had a stoke of inspiration of a way to give the book a few more chapters, which I'm currently writing out. If you're wondering what the book is about, here's my current description:
"Despite Lindsey Way's early life being a total mystery to herself, she's adapted to life on Earth as a Realm Walker rather well in her opinion. She has a job as a travel writer allowing her to use her gift of making a door lead to another door and she even has a loving boyfriend, Tommy, whom she hasn't yet shared her secret with yet. When purple cracks appear during a date night, leaking monsters from other planets into theirs, Lindsey is forced to share her secret. The couple becomes intertwined with people connected to the cracks and discover a sinister plot to harness Lindsey powers by a stranded time traveler."
I've also been working on a sequel to The Crashing of Heaven and Hell and a third book which is a continuation of Intertwined by Cracks, but follows Tommy's sister instead.
-Top Songs of 2018-
These were my most played songs in 2018 according to Spotify, which is how I mostly listen to music. I enjoy sharing what I listened to this past year. It's fun to look back. Nothing this year matched anything from last year. Keep in mind I will often put a song (or playlist) on repeat when writing or for inspiration sessions.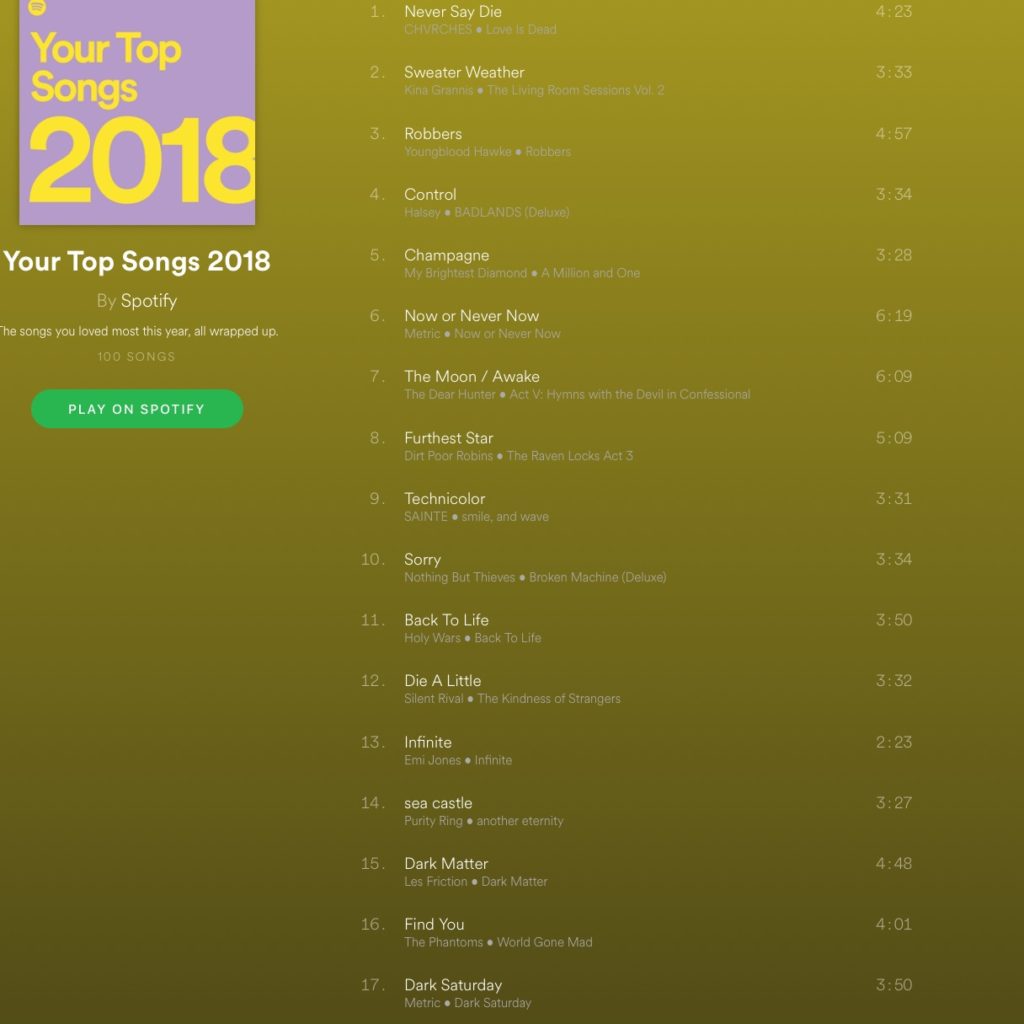 -The Show Starts Now Studios in 2018-
On June 4, 2018, I revealed The Show Starts Now Studios. It's my new parent company for all of my shows. My goal with this venture is to open a live TV audience studio producing live streaming shows every day. I'm years away from that happening, but I'm making progress. The first phase involved aligning all of my current shows under this new banner and plan for the next phase, which is about producing new shows.
-Now For 2019-
Before writing this blog post, I looked back at past end of the year reflections to compare myself. There were a few things that I wrote last year that I had planned to accomplish in 2018, but didn't, such as new books, a national travel show, and a public art instillation. However, I did new things that I hadn't planned like a podcast and a new feature documentary.
My main ambition for 2019 is to start producing new live streaming shows while being memorable. I still have these moments where I feel like both what I'm doing and me personally is forgettable. It's an on-going struggle to improve, trying to learn what works and what doesn't, how to balance work/life, and figuring out/decdiing what needs to be done. I'm reminded of a motivation quote that went along the lines of, "Don't expect your friends to support you – make something worthy of their support."
I have several new shows planned for 2019! As you know, I'm quiet on what I'm working on until it's about done, but fuck that, I'm sharing some of the new projects I'm planning to get feedback/advice now.
A monthly music show in collaboration with Norman Music Festival where performers answer questions from the host and audience and then perform a few acoustic songs.
A monthly panel series that shares advice on various topics for creative professionals.
Season Three of Yes! Science! will be done as a live talk show! Plus, an overview Yes Women in Science mini-documentary for (hopefully) the deadCenter Film Festival.
New 30-minute documentary special on the Plaza Walls project with a big fundraising premiere on Monday, April 15th, the ten-year anniversary of Uncovering Oklahoma.
A political satire series focusing on Oklahoma state politics that's a mix of Weekend Update and Wait Wait Don't Tell Me. Ideally, it would have a weekly run for a month or two in the fall. Big ambitions and challenges for this show hence a fall release.
I do have a few more shows planned that I will be filming where others will be taking charge. I feel like I've been doing so much planning and talking, but not enough action. I'll just say that everything is building up and it's all about to burst.
I want to thank you for following me and I hope you continue in the new year!