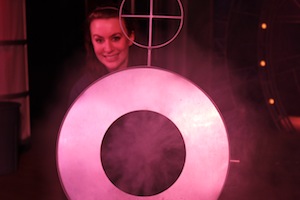 Continuing my theme of places to show off Oklahoma to friends and family from out of town, on Uncovering Oklahoma I visited Science Museum Oklahoma. This was by far the most fun I've had shooting an interview. However, in everyone's defense, it's not like they had an opportunity to say, "Do you want to get video of us going down the giant slide?"
I hung out with the museum's Wonder Instigator and Relevance Czar, Clayton P. Moore. Clayton's job is to make as many people excited as he can possiably make them about whatever it is they're doing in the building. We talked about the museum first in the genius lounge and then we did a guided tour. Everyone there was super fun to work with.
The picture to the side is from the Science Live show. After the show, the host, Erin Singleton, pulled out the Vortex Cannon and made smoke rings for me to shoot both pictures and video. This is my favorite shot I captured that day. Overall, the video segment came out great. I need to work on building my music loop library for videos as I wasn't in love with the music I settled with for the video.
Science Museum Oklahoma is truly a fun place and worth regular visits.