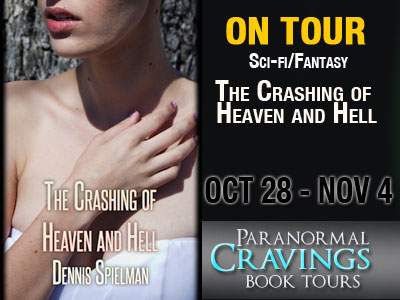 From October 28 through November 4, I was featured at various blogs for The Crashing of Heaven and Hell. Here's the recap of all of the stops.
Tome Tender Blog Spot: "The day Dennis Spielman was born, there must have been a generous helping of imagination dished out, because the world he has created can only be related to our reality in a very general way!" This first stop featured a glowing review that made my day when I read it.
Dream Reader: Dream Reader featured the promo post with a brief review. "I found the story to be fantastical yet containing all the typical struggles we all face. The book was slow moving at points and difficult to follow occasionally, yet remained intriguing until the end."
The Book Tart: The Book Tart and I did an extremely fun interview. Go read it. It's awesome.
Talk Supe: Talk Supe featured promo content and a guest blog post I wrote about inspiration. There was going to be a review, however, my book ended up on the did not finish pile because of the heavy use of footnotes. (Great feedback I am taking into consideration for future stories.)
Sylv Jenkins: The last stop with Sylv Jenkins featured another guest blog post I wrote, "How to Keep Muses From Killing You."
Overall, the tour was fun. It would've been nice to have some more stops. I received some great feedback and gained a few fans.
Saturday, November 16, 2013 from 3:00pm – 5:00pm I will be at Full Circle Bookstore (1900 NW Expressway, Oklahoma City, OK) for my very first book signing session! Event details here. I'll be sure to post pictures from the event.