Presented by Downtown OKC Inc, Inviting Art is my feature-length documentary that discusses Oklahoma City's art scene. The film explores the impact of the arts, showcases examples of art in the city, and shares insight from artists in a story to inspire and invite more art.
I am proud to release Inviting Art today! At this time, it's available to watch for free on YouTube and will be released on other platforms over time. What I am releasing today is the extended cut of the film, which runs at 73 minutes. Last night after showing it at Oklahoma Contemporary, I decided I will make a standard cut of the film to run at 57 minutes for classrooms and submission to OETA.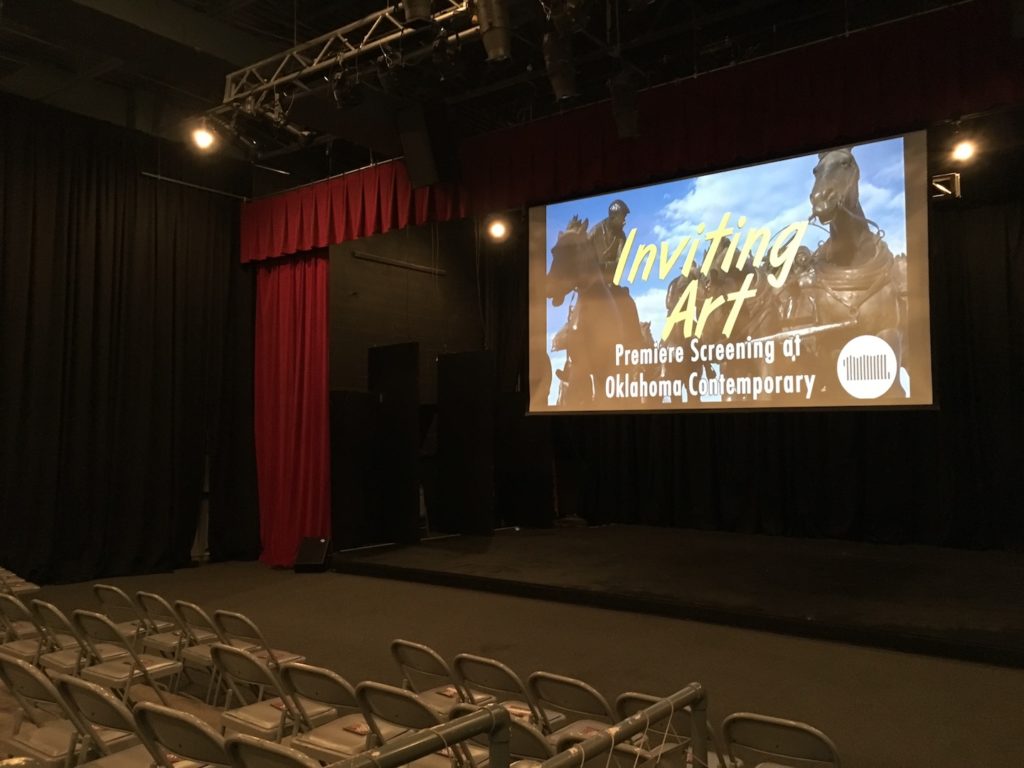 It was great to see the movie premiere on a big screen in a theatre of Oklahoma Contemporary, one of the places featured in the film. It was super cool that Jeremiah Matthew Davis, the Executive Director of Oklahoma Contemporary, introduced the film. Huge props to them for sponsoring the venue space last night!
I tried to pick a date with nothing much going on, but I found out there were several committee meetings, a preview show for 12×12 at OVAC, stuff at the Oklahoma City Museum of Art, a concert at the Tower Theatre, and some other events. I had over a dozen people that were able to make it to the free screening last night. Just goes to show that one can't find any schedule conflicts. Plus, I know most of my friends would rather see it at home, which I totally respect.

However, homebodies don't get delicious cookies. 😎
Inviting Art contains over 30 interviews and so I want to thank everyone here involved in the documentary: Addison Ball, Lori Brooks, Evan Crowley, Bryon Chambers, Mayor Mick Cornett, Riley Cole, Jeremiah Matthew Davis, Jill DeLozier, Marc Dunham, Jack Fowler, Jonathan Fowler, Dusty Gilpin, Steven Grounds, J. Nicole Hatfield, Alexa Healey, Maurice Johnson, Kelsey Karper, Robbie Kienzle, Julia Kirt, Erin Oldfield, Leigh Martin, romy owens, Jason Pawley, Lindsey Pendleton, Laurence Reese, Staci Sanger, Jennifer Scanlan, Lissa Barr Shaw, Rick Sinnett, Laura Warriner, Amanda Zoey Weathers, and Becky Weintz.
There will also be a Midnight Toast tonight (Friday, August 25th) at Ludivine (805 N Hudson Ave, Oklahoma City, Oklahoma 73102). If you want to stay up late with me, here's the Facebook event page for more details. There, you can ask me what I'm working on next. 😉
Let's keep growing the art scene!