Hello, everyone!
It's now time for my annual End of the Year Reflection. Last year, 2016, was a big year for me. I wrote last year "was, by far, my most productive year." In 2017, I stepped my game. Before I get into details, here are some numbers covering what I made.
Weekly Videos for Uncovering Oklahoma: 45
Artist Statement Minutes: 19
Music Videos: 1
Feature Films: 2 (Norman Music Festival and Inviting Art)
Quarter Minutes: 9
Yes! Science! Videos: 6
-Uncovering Oklahoma in 2017-
I'm going to review Uncovering Oklahoma first, but starting off with some stats. Keep in mind the for weekly videos, sometimes I would feature multiple places, such as when I did my Coffee of Norman episode. Some of my weekly videos focused on an event rather than a place, which I made more of this year because I had footage from 2016 to do that sort of thing.
Top 5 Most Viewed Uncovering Oklahoma Videos Made in 2017 on YouTube:
5. McClintock Saloon & Chop House [509 views]
4. Intro to The Food of Lindsey Street [860 views]
3. The Underground [2,046 views]
2. Poe Bouyz House – Sneak Peek Tour with Uncovering Oklahoma [8,229 views]
1. Beck's Garage: Tuning up and Servicing Oklahoma City | #AmexAmbassador [36,180 views]
At this time, no other video of mine has more views than my Beck's Garage video. The reason it's so high is that the marketing company did a paid boost on it. The Poe Bouyz House Sneak Peek Tour video was something that went viral because so many people were curious about what that weird looking building on the highway was going to be. Back in 2009, the very first video I did for Uncovering Oklahoma was about the Underground, which I revisited this year to include as part of my series I was doing about art galleries and for Inviting Art. Downtown OKC was impressed enough with my video on The Underground that they embedded it on their site, which for me, is one of the highest praises.
Now, to mess up those numbers, here's what was popular on Facebook because this year I started also uploading them directly to my page.
Top 5 Most Viewed on Facebook:
5. An Afternoon in Davis [5.6K]
4. Off The Hook Seafood and More [13.6K]
3. Oklahoma State Fair Food of 2017 [14.8K]
2. Davis Road Trip [17.8K]
1. Poe Bouyz House Sneak Peek Tour [407.3K]
Having the videos on Facebook did affect my YouTube views, however, they were getting watched and that's what's important.
The popularity of Uncovering Oklahoma has grown like crazy. On January 2, 2017, the Facebook page likes was at 1,969 and on December 31, 2017, it's at 10,571! I can attribute a good chunk of that to my Poe Bouyz House coverage. As for Twitter followers, I can't find out what I started with, but I'm ending the year with 2,959. Over at Uncovering Oklahoma, I wrote a recap there, which includes my top ten pages and videos.
-Books in 2017-
One thing I didn't do this year – which I also didn't do last year – was publish any books. Not for the lack of trying. Intertwined by Cracks has been going back-and-forth on the editing process. Granted, the book has been getting better and better with each revision my editor has sent back. I've also been working on a sequel to The Crashing of Heaven and Hell, which has an intertwined chapter with Intertwined by Cracks.

-Quarter Minutes in 2017-
This year, I didn't do as many stories for Quarter Minutes, but on average, they were longer this time around. I'm a little bummed that they didn't get many views because I felt we did a great job on them. Something for me to work on for next year. Shout out to Daniel Austin, Pallas, Robyn Wheelock, Michael Roberts, Finley, Justan, and Kristy K. Boone for their work this season!
-Yes! Science! in 2017-
Yes! Science! is my new series I started this year. The show had a rocky start, which involved some technical errors. I didn't debut the series until October 3. However, it was well received! I took a mid-season break from it because it was getting harder to schedule interviews with the holidays and their end of the year project/research wrap-ups.
-Travel Adventures in 2017-
The other new thing I started doing was more personal travel videos, which would have me in it or not be related to Oklahoma. I figured, I had a personal channel on YouTube, which I wasn't using, so I decided to do something with it. The most popular video I made this year on it was about the Oklahoma State Fair Foods of 2017.
Leslie and I didn't travel out of state until December when we went to Seattle to visit her sister and then to see my parents in Georgia for Christmas. Our schedules and budgets didn't allow for much travel.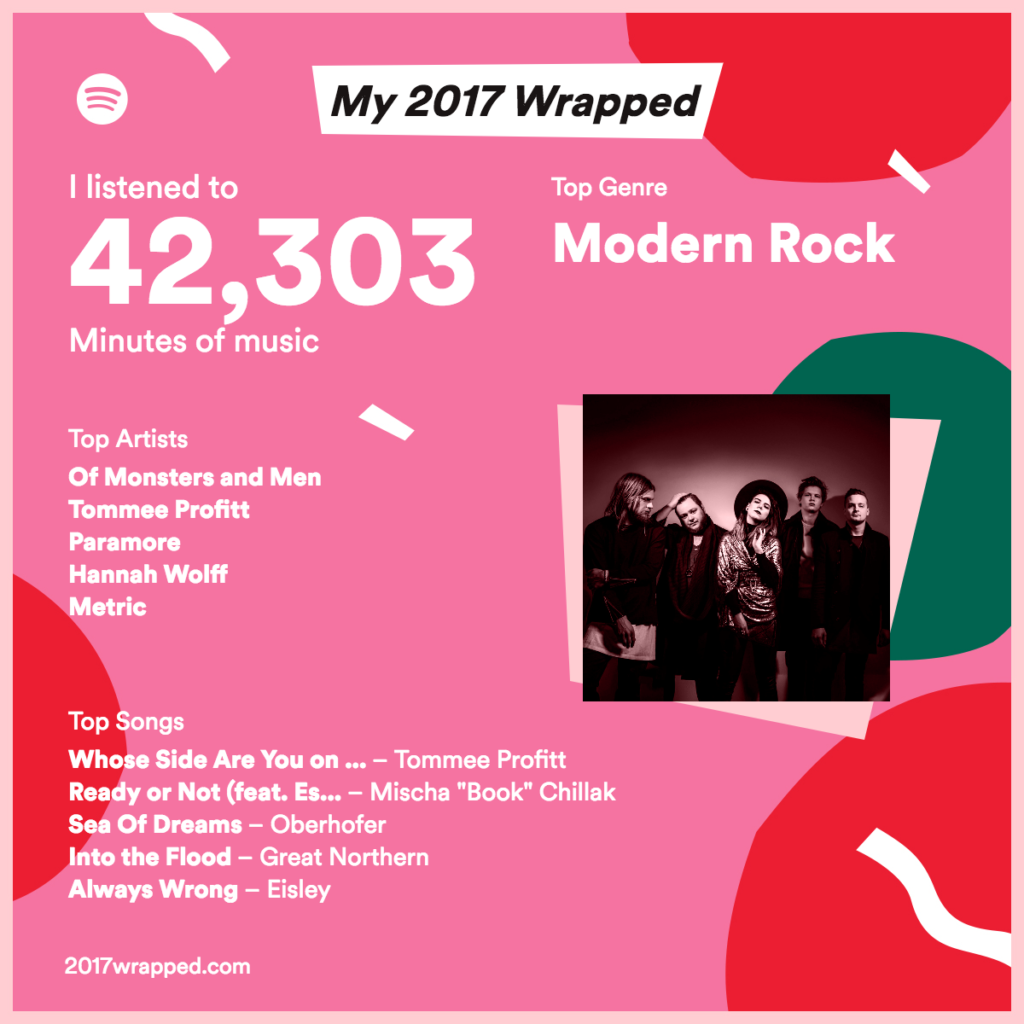 -My Top 18 Most Played Songs in 2017-
These were my most played songs in 2017 according to Spotify, which is how I mostly listen to music. I enjoy sharing what I listened to this year. It's fun to look back. Nothing from my top 15 this year matched anything from my top 15 of last year. Keep in mind I will often put a song (or playlist) on repeat when writing or for inspiration sessions.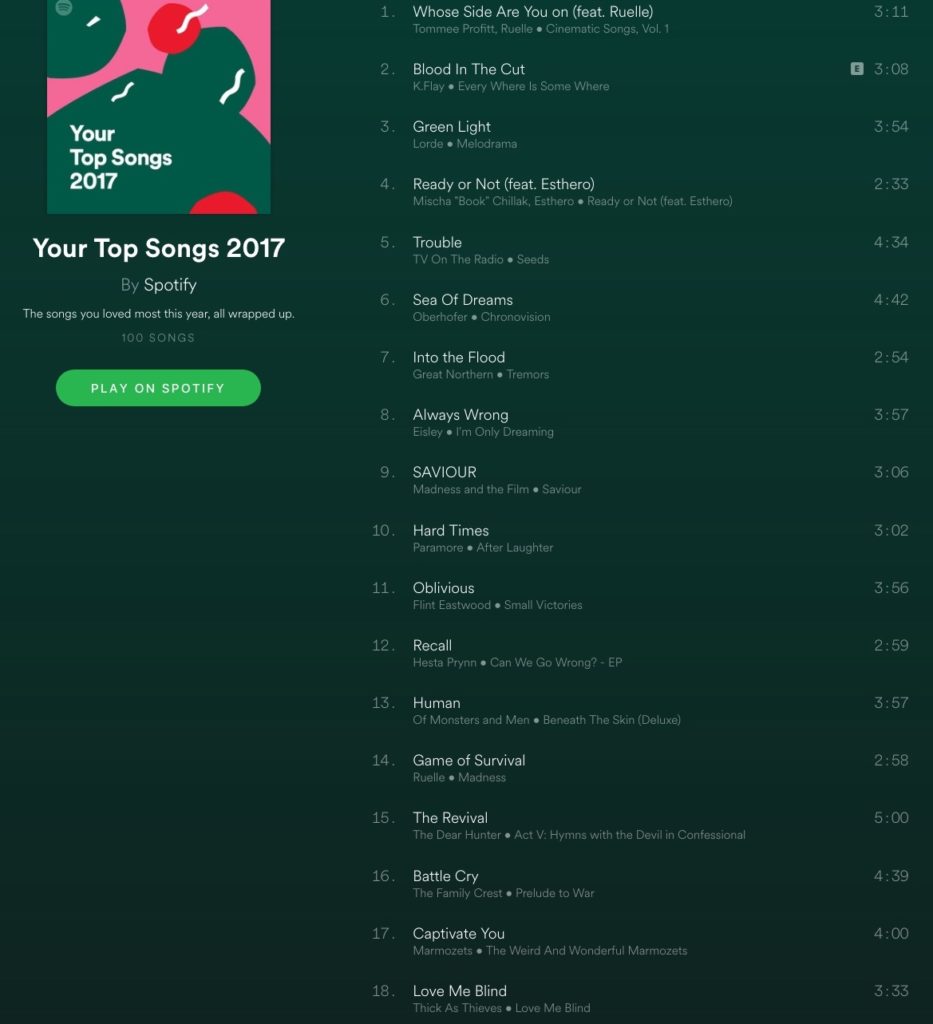 -Now for 2018-
Before I talk about 2018, I feel it's important to talk about my failures of the year. Despite my growth, I can't help but feel somewhat forgettable. I'm still figuring out what people are and aren't interested in watching. Basically, what works and what doesn't work. More than once I've had to tell myself not to compare myself to others – only compare yourself with yourself. I've also had some weight gain as I do most of my work in front of a computer. I'm at 220 pounds today and I've set a goal to lose weight in 2018.
As a business, I am not financially stable or profitable. I did sponsorships to make three videos: The Food of Lindsey Street, Inviting Art, and Beck's Garage for American Express. I also did several freelance video projects. However, I had equipment and medical expenses eat up everything. While I am grateful for the paid work, it takes time. Time to court people. Time to work out deals. Time to get paid (for example, on Inviting Art, I was paid half up front and the other half upon completion, six months later). I'm working on building up patron support so I can focus more on making things.
It seemed like overall in 2017, I was doing a lot of learning and getting a grip on everything, which some people may say that's what every year is like. In the month of October, I had released at least three videos a week – one from each of my shows. I am so proud of that turnout. I've had people tell me that they live through me and my adventures. I've had tons of people that described themselves to me as "not being good on camera" later tell me how good my video on them turned out. In other positive growth, I've done collaborative videos with other professionals, such as in my Davis, Uptown 23rd, and A Solo Day in OKC videos. I plan to do even more collaborations next year. I did get PAID to make videos this year, which is a first.
When I compare the me of today to the me of last year, I've progressed.
I think the biggest thing I've learned this year is that I can't do everything by myself, but I can get things started by myself. Collaboration is going to be key for 2018. I just need to keep things rolling.
Now, I'm not keen on talking about future projects when they are in the pre-production stages hence why I'm going to be a little vague below.
I plan to release a new book from my 16th Phoenix Universe series of stories. As I mentioned before, Intertwined by Cracks is in the editing phase. Collecting Cassie's Soul, which is the sequel I mentioned, I'm still writing it out, but it's been fun to write. It's told from the first person perspective and although it is a sequel, I've been writing it so that it stands on its own. I've also written a little on a third book.
Of course, I will continue making videos for Quarter Minutes and Yes! Science! The Quarter Minutes group had some great ideas we just didn't get to film. In January, I'm going follow up with those who requested I check back then to be interviewed then for Yes! Science! Scheduling and juggling all of my shows has been a challenge.
I would like to attempt to do a non-documentary feature film this year. I have a few ideas I'm bouncing around, but nothing solid yet. As of I'm writing this post, I'm leaning toward a horror film.
For Uncovering Oklahoma in 2018, I plan to do behind-the-scenes kind of videos to show sides of places the public doesn't get to see. Heidi and I plan to go more small towns and do similar videos to our Davis ones. On the subject of collaboration, that's one of my key elements for 2018. I plan to do another pub crawl video and A Solo Day in OKC Summer Edition. If funding allows it, I plan to do more coverage outside of the Oklahoma City Metro.
I have an idea for a public art installation. I've been inspired by all of the artists I've interviewed. I've had the idea for some time now, but I'm just now making time to figure out how to build it because it will be an undertaking. Few people know what it is because I'm keeping it quiet until I'm sure I can actually build it. As Jack Fowler advised in an interview I did with, "you just got to do it."
On the subject of ambitious, I have three words to share: National Travel Show. My goal is to film the pilot episode in the first quarter of the year. This has been something I've been wanting to do for a long time.
In 2016, I thought it would be fun to do a show involving a live studio audience. In 2017, I started trying to figure what that entails and how to make it happen. In 2018, I take steps to make it happen!
That's it for my yearly reflection. I got a little personal this time, talked more than normal, and I've shared some rather lofty goals. Again, I'm sorry if for my vagueness on the future as I things can change at this point. In January, I'm going to be meeting with people to make things happen.
I want to thank you for your support and I hope you continue to adventure with me in 2018!
Have a Happy New Year!