Death visits a coffee shop for their espresso machine.
---
Janet had seen all kinds of weirdness since opening Humming Bird Coffee in the art-centric town of Norman, Oklahoma, six years ago. Every holiday was a grandiose event. For Halloween, giant inflatables overtook the downtown streets for a family-friendly festival. For Mardi Gras, which wasn't a major holiday for the region, people gathered on the cold winter night to have a circling parade. However, no holiday could top the popularity of the city's yearly free music festival in April. 
It was common for the Norman Music Festival to see people in elaborate outfits to promote bands or dance with them on stage. However, Janet had never seen a costume complicated as the one that stood before her. For starters, they were nine feet tall. She wasn't sure how she missed them entering her coffee shop. It was as if they had simply appeared. The figure wore a hooded robe of dirt that moved along like ocean waves. Somehow, Janet got the smell of fresh dirt on a foggy morning in her mind. Their body was of a human skeleton while in the eye sockets where a pair of arctic, soul-sucking spheres of blue flames. Matching the blue eyes was a techno-punk scythe with a neon blue blade.
"Hi, what can I get you?" Janet asked like any other customer.
Death paused, staring at Janet to see if she was referring to him. "You can see me?"
"Of course. I love your costume. Are you with one of the bands?"
"No, I'm here for the General," Death said.
"The General?" Janet repeated.
The General was not a person but the nickname for the beast of a coffee machine that Janet found at a flea market and rebuilt. Her employees often joked the device had a mind of its own and liked Janet the best.
"Of course. That's why everyone comes here," Janet said as she patted the large green espresso maker.
"Do you share a special bond with this General?"
"My staff teases me that I do."
"That must explain why you can see me."
There was a dark seriousness in Death's tone that made Janet think of her brother, who took his own life.
Janet reached for Death's hand. "Yes, I can see you. Everyone can see you. Look, I know we don't know each other, but if you need someone to talk to, I can connect you with someone who can help you."
"Who are you talking to, Janet?" Mick said, giving her a confused look.
"I'm talking to this fellow," Janet answered, pointing at nothing Mick could see.
"There's no one there."
"Hey, don't say that!" Janet snapped.
"Janet," Death said with a firm tone. Janet turned and faced him. "He cannot see me, for I am Death."
Death raised his arms, and time paused for all but Janet and himself as the room filled with darkness.
"Oh my god. Is it my time?"
"No," Death said, annoyed. "I told you, I'm here for the General."
"But the General is just a coffee machine…"
"No, I'm not, Janet."
Janet spun around. Standing before her was her beloved coffee machine in an impish form.
"How?" was all Janet could say.
"I was leading a rebellion on Yellow Planet when I got severely damaged. During the battle, I got caught in a temporal attack that sent me to Earth, where you found me. You brought me a peaceful life, and that was all I ever wanted."
Death walked through the counter and picked up the General in his arms. "I apologize for the false scare. Don't worry, Janet. I don't foresee visiting you personally anytime soon."
The General saluted Janet. "It has been a privilege making coffee with you."
Together, Death and the General floated down through the ground, taking the darkness with them, returning light and time.
"Janet," Mick called out, waving his hands in front of Janet. "Are you okay?"
Janet looked around. Death was gone. Everything was normal for Norman. She turned to her coffee machine, which was still there, but the lights were out.
---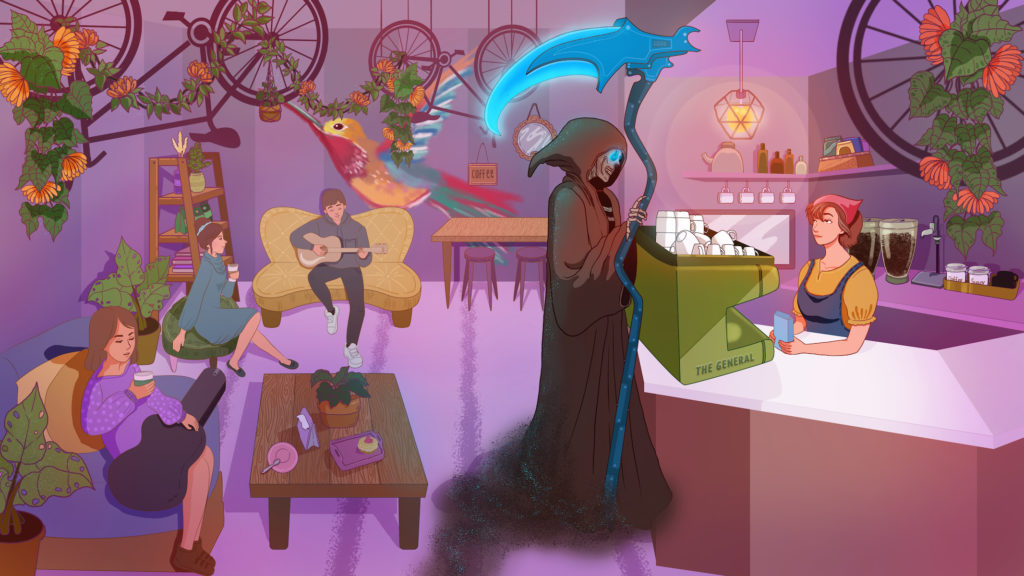 I initially wrote this short story back in February 2018. The story was inspired by the following writing prompt: "As you are sitting at your favorite café drinking your coffee, at the window and across the street, you see Death approaching, probably for you. Turns out the café just has really good coffee."
After my marathon of short stories in 2020, I wanted to revisit my older works and so I updated this story in February 2021. I worked with Janine De Guzman at Design Pickle to bring the scene of Death visiting Humming Bird Coffee to life.