Hello, Adventurers!
It's time for my New Year's Eve tradition of reflecting back on the year. I like to start off with some numbers in regards to my accomplishments.
Uncovering Oklahoma Episodes: 52 (more if you count Artist Statements and event coverage)
Yes! Science! Episodes: 6
Tales Unveiled Episodes: 14
Quarter Minutes: 4
Art & Victory: 6
Before I talk about how each of the series did, I want to note that this year I made a big step toward my TV studio goal. I bought live-streaming equipment and started live-streaming shows! I got familiar with the equipment thanks to Startup Grind OKC as I live-streamed those fireside chats. I also filmed shows with a live audience!
Uncovering Oklahoma in 2019
Since Uncovering Oklahoma was my biggest project for the year, I'm going to start off talking about that series. Here were the top ten most viewed videos on both Facebook and YouTube. This list only includes videos that were made in 2019.
Top 10 Made in 2019 Videos Watched via YouTube
Top 10 Made in 2019 Videos Watch via Facebook
Same deal as last year, YouTube count is based on views while Facebook is from minutes watched. I upload episodes directly to each platform for maximum reach. My total minutes watched from all videos (includes previous years) via Facebook was 107.1k, which was up 3.8 % from the previous 365 days. As for Uncovering Oklahoma's YouTube analytics: Totals views: 61.2k (up 49% from 2018), watch time in hours: 2.5k (up 62%), and 351 new subscribers (up 81%).
Uncovering Oklahoma is still growing! At the time I'm writing this post, likes for Facebook was 15,946 (was 13,130 at the start of the year), Twitter was 3,962 (3,549 last year), Instagram followers was 2,550 (1,426 last year), and YouTube subscribers was 669 (351).
I released a feature documentary, Welcome to the Plaza Walls, which premiered at the Tower Theatre on April 15, the ten year anniversary of Uncovering Oklahoma. It was a wonderful treat! After some feedback at the screening, I made some changes and released it for free shortly after. It was the only feature documentary I made during the year, other than a compilation for Amazon Prime. My focus has been weekly episodes.
My collaboration episodes included Creative Burgers Vol 1 and 2, Black-Owned BBQ Restaurants, Oklahoma State Fair Food 2019, Zero-Proof Cocktails, The Collective, Streetcar Ghost Stories, Parlor OKC, and Downtown in December. All of the collaborations were a hit. I was inspired by how well the ones I did in 2018 that I had to do more in 2019 and I plan to be doing even more in 2020.
There's been so much to cover that I started releasing videos on Tuesdays in addition to my Thursday videos. The ones one Tuesday were more time-sensitive, such as event coverage and artist statements. I renamed the Tuesday Treats feature to Creator Conversations and moved it to Wednesdays.
Website traffic is down again this year, however, video views and social media engagement is up, so I'm happy. I want people to watch the videos more than I want them to visit the website.
Tales Unveiled in 2019
Tales Unveiled took off in popularity this year. Episode download averagers for the first season were 2oo to 300 while the second season averages were over 1,000! We were featured on Stitcher, Oklahoma Gazette, and Oklahoma Today, which you can read about that coverage here.
The most downloaded episode was Creepy Conversations with 2,167 downloads, The Return to Chandler came in second with 2,160 downloads, third was The Ritz of Shawnee at 2,008, fourth was The Tombstone Tales of Enid at 1,746, and fifth was Embark on a Ghost Streetcar Tour at 1,571.
Yes! Science! in 2019
Taking advantage of my new live-streaming setup, I reinvited the series as a talk show hosted by Pallas the Librarian. We started the new season in March, doing monthly live events for six months. The show didn't take off in popularity but the series was well received. Pallas has been an amazing host. All of the guests have enjoyed their time on the show. Plus, I learned so much from producing it. I'm taking the knowledge I've gained to make a better season for 2020.
Art & Victory in 2019
A new series! Art & Victory is a panel discussion series for creative entrepreneurs. Themes range from industry-specific discussions to more broad topics for all creatives working to make a living with their art.
Due to the lack of good wifi at the venues, I wasn't able to do this a live-streaming show, but I did do it with an audience. Another step closer to the studio goal!
Quarter Minutes in 2019
After not making any in 2018, we made four stories in 2019. We enjoy making these super short films and I'm determined to keep getting better. I had a goal of releasing one a month, but when my other series started to pick up, Quarter Minutes fell through the cracks. With as much as I do, perhaps one every other month or every quarter would be a more realistic goal for 2020.
Top Songs of 2019
These were my most played songs in 2019 according to Spotify, which is how I mostly listen to music. Keep in mind I will often put a song (or playlist) on repeat when writing or for inspiration sessions. It's all good fun.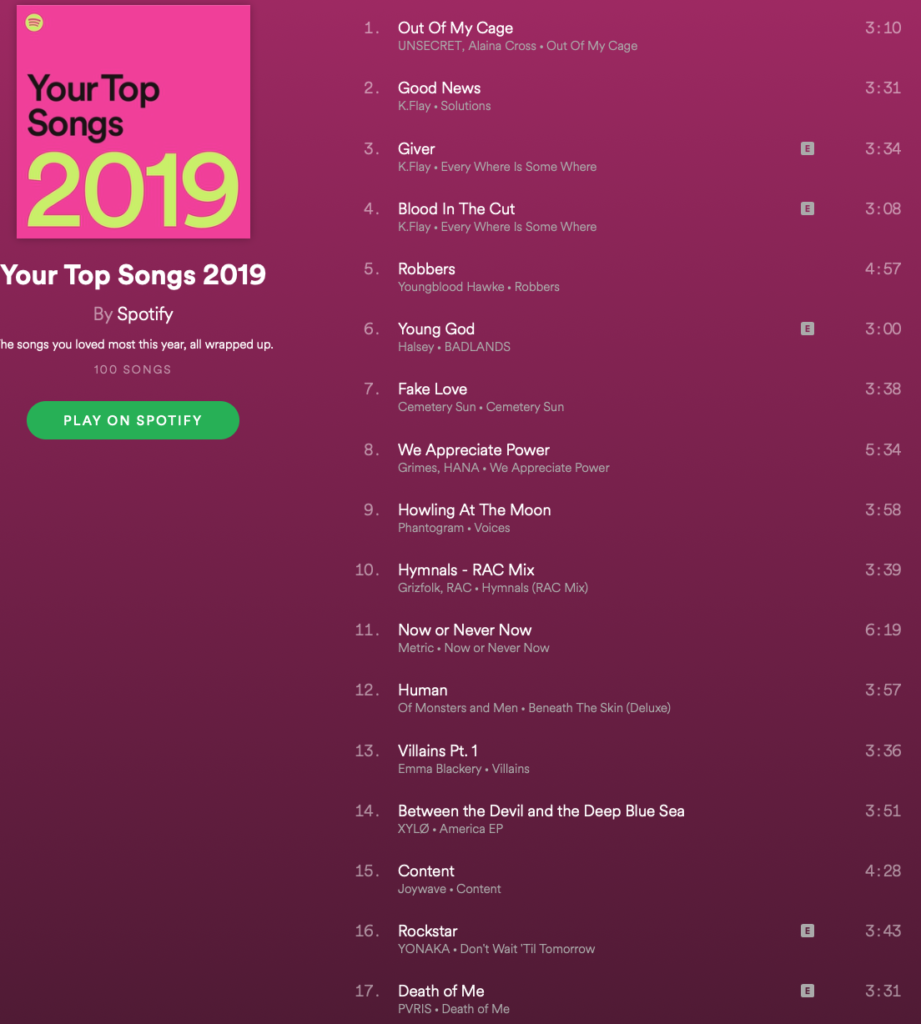 Plans for 2020
My plans for 2020 are to keep upping my game.
For Uncovering Oklahoma, I'm going to start releasing videos in 4K HDR. I've released videos in 1080p simply so I could get creative with my framing, but I want to flex my skills. I recently got an HDR computer monitor and I'm in love with HDR. My Panasonic GH5 is capable of shooting 10-bit HDR, but I never really used it until recently. I know it's going to be overkill, but this move will be more about producing higher quality content.
I want to take Yes! Science! to the next level. I want to build an elaborate set and up the overall production quality. I would also love to get it on a major streaming service to fund the series so I can bring out of state guests.
For our third season of Tales Unveiled, Jeff and I are going to continue traveling the state for ghost stories. We are planning to start recording in January this time as Jeff is still working on his ghost stories of Oklahoma book, which he plans to release in the fall.
I've been picking up more freelance work and I'm worried that will take away time from all my shows, but I need the money to make those shows happen. On the subject of balance, I'm getting better at balancing everything I do.
In my past end of the year recaps, I talked about my books and how those are so close to being done but never get released the following year. I have written out Intertwined by Cracks, which has undergone some major changes this year and needs some more work as the last feedback I received was that the story moved too fast. Collecting Cassie's Soul, the sequel to The Crashing of Heaven and Hell, has been finally written out all the way! I've also been working on a third book this year, but not much as the other two have been my main focus.
I'm looking into starting a political satire series in 2020. Been learning what it takes to do a live show in 2019.
There are some random things I want to do: create some interactive public art piece, film a Borderlands short fan film out in the Little Sahara, write weekly short stories, make a feature-length horror movie, film something out of state, make a scripted mini-series, do a space drama podcast, take more artsy photographs, do a big New Years Eve special show for those that want to stay home, and get some famous women on Yes! Science!
I feel so inspired. There's so much I want to do. Seriously. So much I want to create. I want to thank you for following and if you want to support these amazing endeavors of mine, join me on Patreon.
Happy Adventures!