Well…
Hello, Adventurers! Typically, I write my end of the year reflection on New Year's Eve, but I was working with the Oklahoma City Arts Council on a big live-streaming Opening Night event. This reflection is going to be a little different, but last year was a different kind of year.
This is the part where I share numbers on how much I created, but the statistic that matters the most, I'm reminding myself, is that I made it through the year. Also, I made more videos for other people than myself. I've been able to help many organizations connect with their audiences through video content and live-streaming shows. I'm proud of that fact.
In the summer, I live-streamed a concert every week for the Arts Council OKC and then again in the fall, but every other week. For Oklahoma Contemporary, I made them about two videos a month. I helped take a live play Namron Players Theatre had planned and turned it into a movie for them. I worked with Therapy in Motion and the Norman YMCA to do a Healthy Living Series. I got to do a big New Year's Eve show, which was a goal I noted in my previous reflection. Plus, I helped other businesses with some internal videos too.
To thank my clients for this year, I worked with Design Pickle and they made me this thank you card that I sent (and still sending out) to all of my major clients for the year.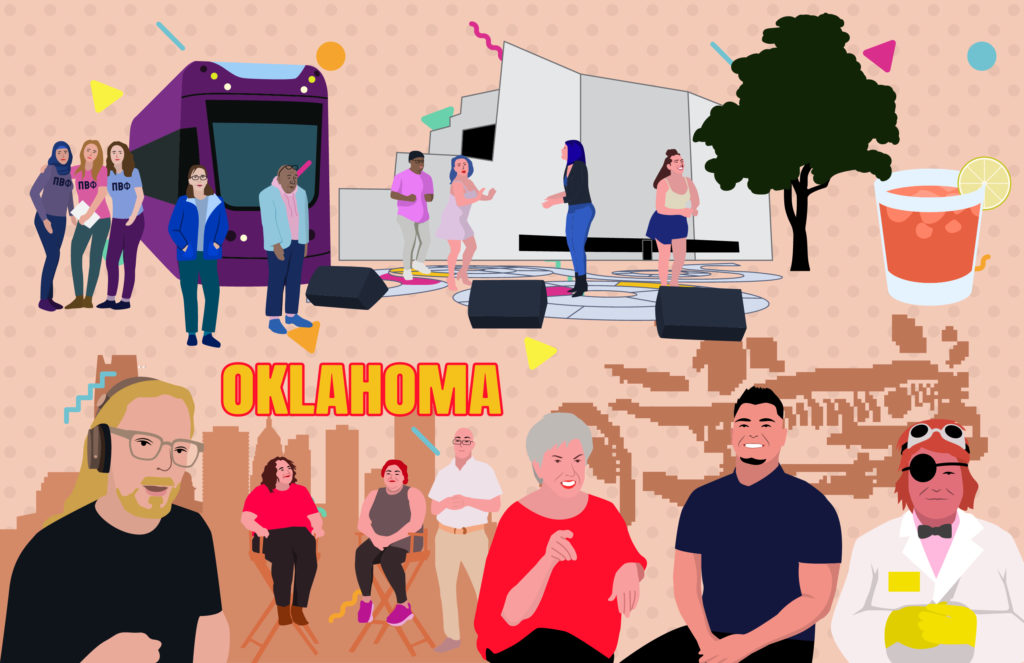 Overall, I am grateful and proud of what I did create in the year, regardless of who it was for.
Uncovering Oklahoma in 2020
At the beginning of 2020, I raised the bar by producing videos in 4K HDR and closed captions on every episode. Pre-pandemic, I started strong with stories in Tulsa and Guthrie. I released 27 weekly episodes along with three art and event pieces.
With my growing library of content, videos I made in previous years picked up in popularity. Even though I didn't make many new videos, the watch time in hours for the YouTube channel was 2,542.3, which was about what I got in 2019. Subscribers grew by 365, putting me over 1,000! According to my YouTube channel, these were the Top 5 watched videos in 2020.
5. Gathering Place in Tulsa
4. Magnetic Hill in Springer 
3. Black-Owned BBQ Restaurants Vol. 1
2. Press Waffle Co at The Collective
1. Great Salt Plains State Park
The title for the most-watched 2020 story goes to The Study in Oklahoma City, which was the second episode I did when the lockdowns lifted. The first story I eased myself back into filming was on the Winchester Drive-In Theatre in Oklahoma City, which was my second most popular 2020 video and most-watched via Facebook. Sergio's Italian Bistro, Pink Elephant Coffee, Re: Earth, and The Study were the most-viewed via Facebook.
Tales Unveiled in 2020
Jeff and I got three episodes recorded before the pandemic hit. We picked up recording later in the summer and released a total of 11 episodes for our third season. Our episode on Bartlesville was our most popular. Despite the shorter season, we had quality episodes. Great stories from guests all around!
Quarter Minutes in 2020
We made one episode! Go us!
Yes! Science! and Art & Victory in 2020
Due to the audience nature of these shows, I felt it was best to postpone them until the time was right.
The 16th Phoenix Universe in 2020
What's this? A new category? One of my personal goals was to release a new short story every week for the year. With the exception of A Killer Among the Spaceship Game Show, which was released in two parts and the first part took two weeks, I kept up with my goal. I wrote 48 short stories!
Still, no new books. They were looking good in the first half of the year, but when client work picked up, writing time got spent on short stories.
Make sure to follow the 16th Phoenix Facebook page and Reddit account for more updates.
Top Songs of 2020
According to Spotify, which is how I mostly listen to music, this was my 2020 soundtrack. As always, keep in mind I will often put a song (or playlist) on repeat when writing or for inspiration sessions. Maybe you'll find a new favorite song?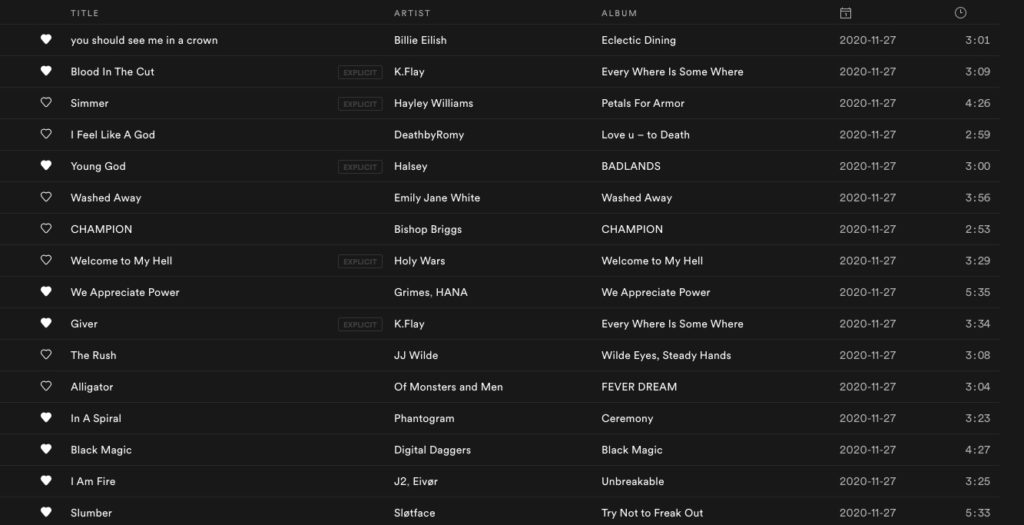 Plans for 2021
Although it's a new year and I'm optimistic, but I'm going to be careful with my plans as we're still dealing with a pandemic.
For Uncovering Oklahoma, with COVID cases rising, I'm playing things safe. It's annoying when I'm filming a restaurant and someone walks past me to go to the bathroom without a mask. On top of all that, businesses are going out left and right. I'm going to focus on retail businesses and concepts where I can control the environment to be safe. I don't foresee me making as many episodes as I did in 2019. I hope to get back to doing collaboration episodes soon.
For Tales Unveiled, Jeff and I did leave the show open for more episodes. I would love to travel out of Oklahoma this season or next. We plan to start recording season four in the spring with a fall release. (There's a Friday the 13th in August.)
For the studio audience shows, I honestly don't know when I'll start those up again. I might do them without an audience or I might do something entirely different.
For the 16th Phoenix Universe, instead of a weekly short story, they will be monthly. Writing every week has helped me build my fictional universe. I want to take some time on the stories and maybe release longer stories. I want to build upon other stories I've written in 2020 for 2021 and allocate writing time to other works. I plan to revisit all the 2020 stories, send them to an editor, and publish a book collection.
Also during the weekly short story creation, I've started two new books. One is based on A Question for the Writers and the other is from Upgrade Cave. I want to finish my other books before I get too involved in those stories.
Now, for new projects! Last year, I did start writing a feature film script although my writing time got spent on short stories. I would like to get that written out at least this year.
One of the first major projects I have in the works for the first half of the year is an interactive branching narrative that takes place in Downtown Norman. More about this later as we're planning an April or May release.
Finally, I'm researching a project that might be a huge move I'll make to get closer to the studio goal. Way too early for me to say anything about this publicly yet.
Thank you for following me throughout this year! You can join me on Patreon to help support these projects and get special rewards.
Here's to happy adventures in 2021!