Holly Hodge talks about the all-female made exhibits, Fluvial Terra and Altered Classics, on display at [Artspace] at Untitled.
Fluvial Terra features paper and installation work by Megan Singleton that was inspired by her travel west from Missouri to Oklahoma. Singleton utilizes locally foraged soil and plant fibers to create artistic interpretations of the landscape and vegetation found in Oklahoma. Material and scholarly research is a critical component in Singleton's practice. She considers her method of collecting, testing and transforming the plants to be a way of honoring them as living organisms while also engaging and educating the viewers about the importance of species awareness.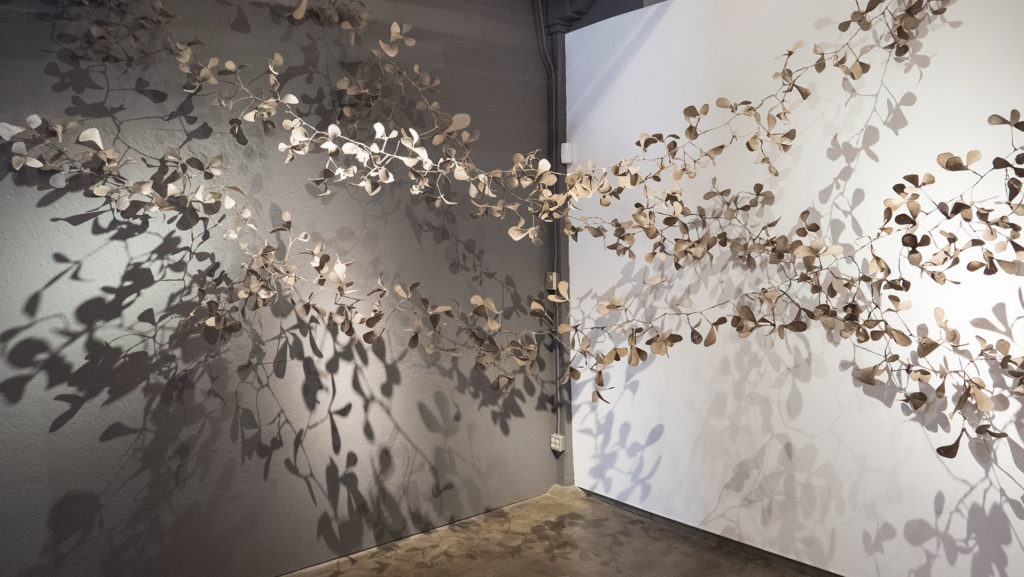 For this body of work, Singleton selected crossover plants that have been designated 'problem species' and 'invasive species' by state government agencies in Oklahoma and Missouri. Through her work, she invites the viewer to connect to the growing, living environment, seeking to inspire them to foster growth and revitalization of our landscapes and their natural systems.
Kelly Campbell Berry is an Oklahoma artist who is a master of altered books. Her artistic practice started out of necessity when a house fire in 2006 claimed all but two books in her vintage collection. After taking the damaged antique books from the rubble, Berry assembled the remnants in her first book sculptures, sparking a desire to rescue damaged and discarded books by turning them into works of art. Throughout the course of her artistic career, Berry has been commissioned to create altered books for clients in Brazil, England, Ireland, Italy, Canada, Hungary, Singapore, Germany, and across the United States. The pieces for the Altered Classics exhibition were commissioned by the Koller Gallery in Budapest, Hungary, where they will be on display next after the closing reception at [Artspace].
The illustrations used within the Altered Classics series are primarily engravings. The idea of cutting and repositioning the subjects of these prints profoundly changes the way they are viewed. Berry is interested in the transformative quality of creating a sculpture out of a traditional two-dimensional object. Her altered books are created with a laborious technical precision that is apparent when observing the detailed sculptures on display.
The material for Altered Classics has been sourced from the illustrations of Gustav Dore, which Berry collected from several classic works such as The Divine Comedy trilogy by Dante Alighieri, The Rime of the Ancient Mariner by Samuel Coleridge, and Jean de la Fontaine's Fables. The sculpted books for this exhibition are displayed alongside several individual scenes, visually conveying the narrative within the novels they represent.
The show will run from September 7th to October 28th, 2017.
Learn about [Artspace] in this video I did.
Today's video I've been holding onto for awhile because I've had so many other videos that were more time-sensitive to be published first. I've been busy editing my stockpile of videos for Yes! Science! and Quarter Minutes, which will be debuting next week! You can become a patron to get early access.