What a year 2014 has been.
This was the year I started to turn Uncovering Oklahoma around. This was the year I've gone from making a few updates a month to a few updates a week, writing over 100 posts for my travel blog. This was the year I got the most traffic. This was the year things started to fall into place and look up.
This was a good year.
Let's recap.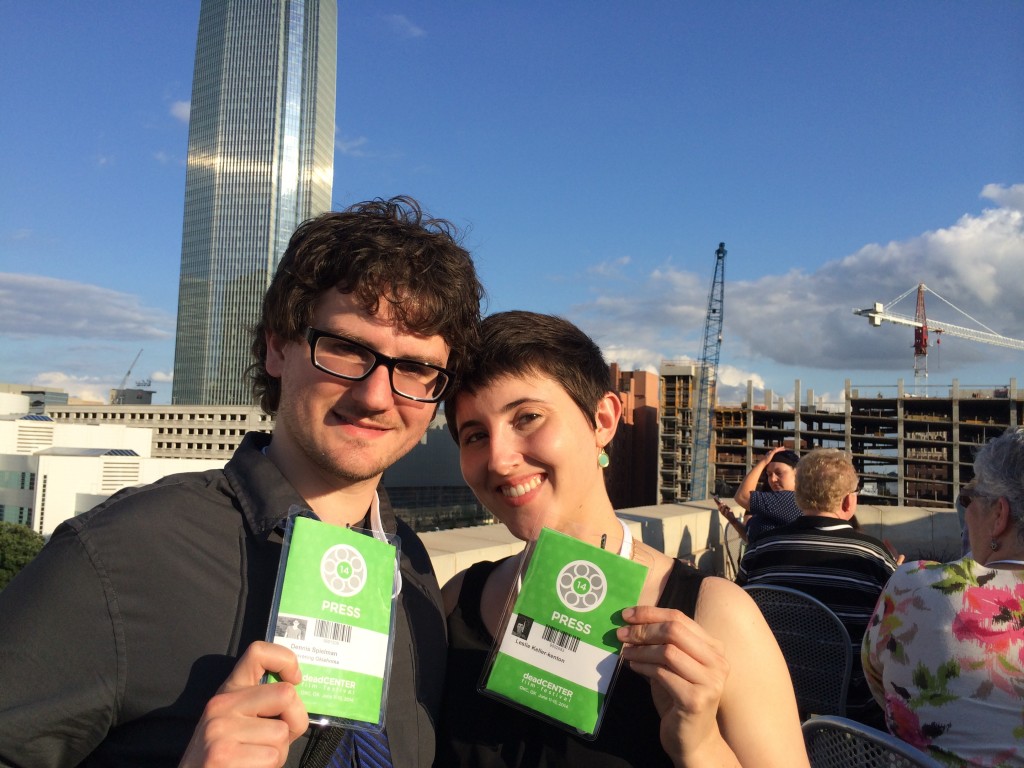 In late January I released Uncovering Oklahoma's 2014 Date Idea Book. The book wasn't the overnight success I dreamed it would be, but I'll talk more about that later.
I had written article early in the year of a list of 14 Things I want to do in Oklahoma in 2014, which was rather popular. Sadly, I only managed to do three of the items on my list: Air Donkey Zipline Adventures, a painting class, and watch at movie at the deadCENTER Film Festival. However, all three were a blast!
How did I fair this year in video interviews? I made five: Starbase Studios, Take 9 Variety Show, Rough Cut at deadCENTER, Air Donkey Zipline Adventures, and HeyDay Entertainment. If I have to pick a favorite, I would go for Air Donkey because of the action and flow. Though, the one on Take 9 had a fast pace and visiting both Starbase Studios and HeyDay were fun. Overall: I'm happy with what I've made.
This year was the fifth year I've been doing Uncovering Oklahoma. I celebrated by releasing a free book about some of my Experiences of Uncovering Oklahoma. The pdf book contained a journal about the first day, my interview questions, history of the date idea book, some of my favorite photography, and questions I've been asked. The book was short, around 30 pages. Check the post about it here.
This year I started publishing local restaurant recommendations on Uncovering Oklahoma. (In the past, I only did video interviews and date ideas when it came to food.) The first one I did was Seven47 in Norman, which the post was more pictures than review until my second one I wrote on OMG! Fusion Restaurant in South OKC. Throughout the year I featured more and more places, landing me a spot in Urbanspoon's Top 10 Oklahoma City Metro food bloggers. The most read food review (that wasn't about H&8th) was on Hurts Donut Company, with the second and third being Ludivine and The Bleu Garten. One of my photos of Glacier Confection, a chocolate shop in Tulsa, was featured in the Diner Photos of the Week. As a top contributor to Urbanspoon, I received some cool swag that included a t-shirt, sticker, and bottle opener.
It's been a great year for my question and answer interviews too. My Tuesday Treats that I started last year are still going strong. I experimented with an artist exhibit interview that went well, which I will do more of in 2015.
Uncovering Oklahoma has become increasingly influential. A person I met at a charity event who was friends with a restaurant I featured, had told me the place had seen a spike in traffic because of my recommendation. I can't tell you how much that comment made my day and made me feel like the new direction I was heading with the site was working. I've been invited to several events throughout the year, including deadCENTER, a murder mystery party, and a Foodie Foot Tour.
I made a few videos for work, all of which have won awards and prize money ($50 per each of the two videos). I can add Contest Winning Videographer to my title now.
I had two major travel trips this year. The first was to Eureka Springs and the second was to Atlanta. I never went to down Texas this year, which is a bit odd, but I went other places instead.
As you can tell, Uncovering Oklahoma has been my major focus this year and my creative projects have taken a hit – no – my creative projects have been set aside to be refined and developed more. Yeah! That's it!
Now, for 2015.
There will be a revised edition of the 2014 Date Idea Book for 2015. The revised edition will drop the year from the title and will only contain corrections and minor updates. I've given the date idea book series some deep thought and decided to go in a different direction. I'm working on a new book full of adventures and activities to appear to broader audience. The revised date book will be out soonish. I just need to sit down and do it. The brand new adventure book will come later in the first quarter. I also I have an idea for another Oklahoma themed book, but it's only an idea at this point.
More books! I have an urban fantasy that is getting close to being done.
I will be offering new services on Uncovering Oklahoma, including video production and public speaking. So far next year, I will be speaking twice about Uncovering Oklahoma at the Norman Public Library. I'll set up a page about my full range of services soon.
The big goal for 2015 is to quit my day job and become a full time writer. Believe it or not, but I manage Uncovering Oklahoma while working over 44 hours a week. Imagine all the stories I'll create with more time. It's going to be spectacular! I can't wait! First, I have to get everything situated to pull this feat off. If all goes well, I should be a full time writer in the first half of the year (perhaps even the first quarter). If you want to help, please refer people to here, Uncovering Oklahoma or one of my books, follow me on social media, and keep visiting!
Here's to an even better 2015!